Alleged iPad Mini Photos Leak Ahead of WWDC
Alleged parts of Apple's 7-inch iPad Mini aka iPad Nano have leaked out today.
ZooGue has posted several photos that apparently depict the backing of Apple's alleged 7-inch tablet. The device has been rumored to have a screen under 8-inches in size, possibly 7.85-inches, but this new report states that the display will check in at 7.58-inches instead.
The report also states that the source who provided the site with the images says that Apple will announce the product at WWDC 2012 which kicks off Monday, June 11th.
Update: ZooGue provides the following updates.
#1: Another source close to the topic has told us that Apple is indeed manufacturing a miniature iPad in Foxconn's Shenzhen factory.

UPDATE #2: Our original source for the pictures tells us that the iPad shown below as well as the iPhone 5 will not be announced on June 11th at WWDC 2012.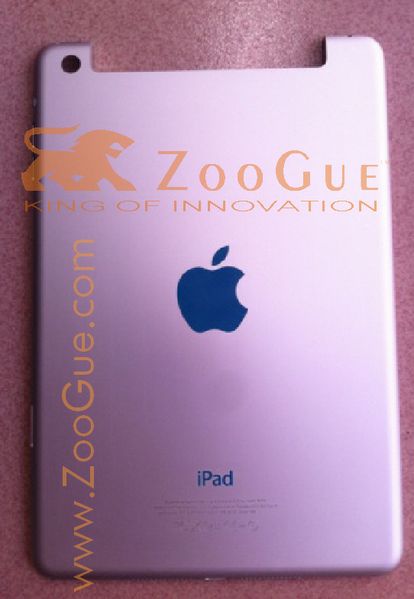 This new iPad Mini also seems to have a mysterious new dock connector. Apple has been rumored to be doing away with the six-pin dock connector but thus far, those rumors have not provided fruitful.
As with most Apple rumors, we have to consider the source. John Gruber, of DaringFireball, is plugged in to the Apple scene as much as anyone and he says that Apple has a 7.85-inch iPad that is currently in testing. It's certainly possible that the company has multiple screen sizes in the lab for testing but we can't know for sure.
Read: The 7.85″ iPad is Real, In Apple's Labs.
In addition, all previous signs have pointed to a launch during the fall of 2012 and not WWDC 2012. In fact, we haven't heard anything about a new iPad debuting at WWDC.
That being said, it's also possible that the part that leaked here is the real deal and we finally have a glimpse at the back of a smaller iPad mini.
Apple has been rumored to be developing a smaller 7-inch iPad to compete with Amazon's Kindle Fire and add more variety to a lineup that currently only features on device, the 9.7-inch iPad.