Alleged iPhone 5 Accessories Leak Out
It looks like iPhone 5 accessories, complete with compatibility for the device's rumored new dock connector, might of surfaced ahead of the next iPhone's presumed launch in September.
iLounge has dug up some photos of several accessories made by third-party accessory maker Scosche that seem to show off designs for the iPhone 5's new dock connector.
The accessories here include the syncABLE Pro, which is a dual-device wall charger, and the reNUE Pro which is a dual-device car charger. Both devices are shown with a cable is compatible with Apple's new dock connector, a feature that is heavily rumored to be coming with the next iPhone, the iPhone 5.
Read: Leaked Photo Shows Alleged Smaller iPhone 5 Dock Connector Cable.
As of now, the accessories do not have any pricing or release date information attached to them though that should be expected. The iPhone 5 has yet to be announced.
In addition, the site has a photo of what is evidently an iPhone 4S inside of a case for the new iPhone. This gives consumers a glimpse at how cases will protect the bottom portion of the iPhone which houses the dock connector and speakers.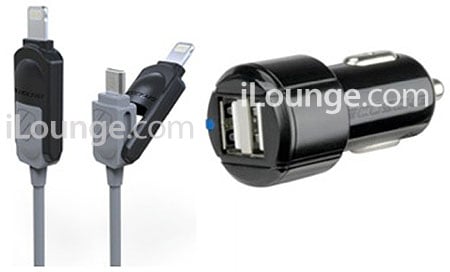 Read: Exclusive: iPhone 5 Engineering Sample Photos Direct from China.
Apple is rumored to be including a new dock connector on the iPhone 5 though the amount of pins remain unclear. Thus far, we've head 19-pin, 9-pin and 8-pin.

The company is said to be including a new dock connector for a new number of reasons.
Why Apple Might Include A New Dock Connector on the iPhone 5
There are a number of reasons why Apple will include a new dock connector with the iPhone 5.
It would allow Apple to slim down the iPhone.
Apple could make the iPhone waterproof because of the smaller opening.
The company could include magnets which would allow for easy connection and disconnection.
And with more space, Apple could include better microphones on the iPhone.
Apple is rumored to be releasing an adapter for those that wish to purchase accessories that feature the new dock connector but aren't using an iPhone that's compatible.
iPhone 5 Features and Release Date
The iPhone 5 is rumored to have a new, taller design that should house a larger 4-inch display. Leaks also suggest that it might include an upgraded processor, an HD front-facing camera, 4G LTE data speeds, and iOS 6. We've also heard that it could include a thinner design and a metal backing.
Read: iPhone 5 Rumors: Next iPhone Won't Have NFC.
As for its release date, Apple is rumored to be hosting an iPhone 5 launch event on September 12th where the company will announce the next-generation iPhone 5.
Its release date is said to be coming afterward on September 21st with pre-orders starting before that date.

As an Amazon Associate I earn from qualifying purchases.