Allegiance Technology Partners Sponsors Tablet PC Webinar
John Hill of Allegiance Technology Partners informs us that ATP will be hosting a second Webinar on Tablet PCs. This Q&A on October 11, 2006 will give you an an opportunity to ask questions of Tablet PC experts on any subject Tablet PC related.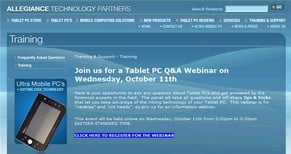 Sign up for the Webinar here. We'll be publishing more info as it becomes available.

This article may contain affiliate links. Click here for more details.