Almost lost my eo already!
I had to pickup my neighbor's daughter from school today, and I made a mistake. I took my new eo i7210 with me. It may end up as a sort of greek tragedy. This is a pretty quick summary, but here's how it went:
I picked Bailey up at school, and she immediately saw the eo in the console between the front seats.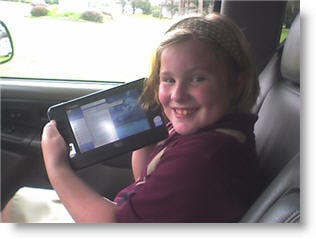 Bailey: Ewwwwwwww, can I play with it?
Dennis: Sure Bailey, see if you like this new Ultra-Mobile PC I just got!
Bailey: Okay — let me at it! Wow man — this thing ROCKS! IT ROCKS THE HOUSE (whatever that means)
Bailey played a bit, tried a couple games, asked 2 or 3 questions, then quietly just played away without saying hardly a word at all. Now that may seem normal to you, but this is Bailey "Queen ChatterBox" who hardly EVER allows her lips to stay touching as they rapidly send forth a constant dialog on any and everything in sight. This thing had a major calming effect, leading me to believe that eo has a future as a babysitter!
Dennis: Okay Bailey, you need to give it back to Mr. Dennis now. Bailey? BAILEY? Did you hear me? Don't give me that look girl!
Bailey: Can I keep it — PLEASE, PLEASE?
Dennis: No way Bailey.
Bailey: Why not?
Dennis: Cause I'm bigger than you.
(Dennis pauses as he looks at that darling (little devil of) a face).
Dennis: Okay — you can keep playing with it, but just remember that this is a serious business toy, er.., I mean device and be careful with it.
Bailey: (in her head only) Man these adults are a sucker for a pouty little face :-)
Man…., I hope I can get it back now……

As an Amazon Associate I earn from qualifying purchases.