Alphyn Jacket Lets You Use Your iPad on the Go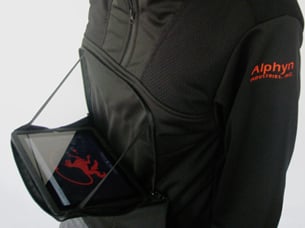 Need to use your iPad while on the go but don't want to look awkward whipping out a near-10-inch slate? In moments where a 3- or 4-inch smartphone touchscreen won't suffice and you really need the display real estate of an iPad, Alphyn Industries hope to have you covered with its PADX-1 LEDGE Wearcom iPad Jacket, allowing you to safely transport and use your slate.
The wearable geek accessory is a jacket that you can wear with a big front flap that turns you into a kangaroo with an iPad-housing pocket. Unzip the pocket and the flap securing your iPad drops down to provide you with a 'surface' to get your quick computing done.
Xavier and I were at MacWorld 2011 and Xavier took some video of the wearable tech in action. You can see the video below:
The jacket's an interesting concept and doesn't add too much bulk to our outfit. However, in use, I think I'd caution against using the iPad in this manner outside as a precaution against theft. You can read more about the concept over at sister site Notebooks.com.