Amazing iOS 7 Lock Screen Wallpaper Trick (Video)
Apple pulled out the stops for a brand new look in iOS 7 and the new lock screen offers fast access to controls, notifications and it's now a great canvas for your panoramic photos.
In iOS 7, the system uses the iPhone's sensors to detect movement and system items, like icons and badge notifications will respond, but that's not all.
Users can set a panoramic photos as their lock screen and then when they move around the picture will swivel in place, showing off the full photo instead of just one small frame.
iOS 7 Panorama Lock Screen Photo
Check out the iOS 7 panorama lock screen in action in the short video below.
iOS 7 also lets users choose a panoramic photo for the home screen, but the effect looks more impressive on the lock screen where there are no icons to get in the way.
In our tests, iOS 7 identifies photos that are panoramas based on dimensions, not just those taken on the iPhone so users can create their own by merging photos together in a photo editor or downloading panoramic wallpapers online.
Another cool feature in iOS 7 is the inclusion of live wallpapers for the iPhone. Apple calls these Dynamic wallpapers, but they are essentially the live wallpapers that Android users are used to.
These dynamic wallpapers are available on the home screen and on the lock screen and interact based on how the user moves the iPhone. Tilting it one direction will send bubbles moving across the screen in one of the wallpapers.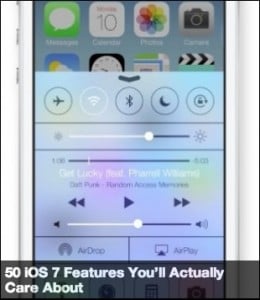 For now there doesn't appear to be a way to add any third-party dynamic wallpapers, but it's possible that Apple could allow Dynamic Wallpaper sales like it does with ringtones in iTunes.
Apple announced the iOS 7 beta on Monday at WWDC 2013, and made the new version of the iPhone software available to developers using the iPhone 5, iPhone 4S and iPhone 4. Apple is planning iOS 7 for the iPad soon and will release the iOS 7 update this fall to most current Apple devices.
Developers can download the iOS 7 beta to prepare their apps for the new look and new iOS 7 features.
Services sell access to the iOS 7 beta to let average users try the new version of iOS early, but it's not for everyone as there will be bugs.

As an Amazon Associate I earn from qualifying purchases.