Amazon Cloud Player for iPhone Finally Arrives
Amazon's Cloud Player is finally available on the iPhone, nearly a year after it debuted on Android.
iPhone users can finally access all of their music stored in the Amazon Cloud Drive without having to download and import it to iTunes first. The free app lets users stream any song they previously purchased on Amazon, as well as any songs they uploaded to the service.
Like the Android version of the app, Amazon Cloud Player also lets users download their Amazon MP3 files to the iPhone. The downloads are relatively quick depending on the iPhone's Internet connection, and streaming music seems fairly reliable as well. The only downside is the downloaded files aren't available in any other music app.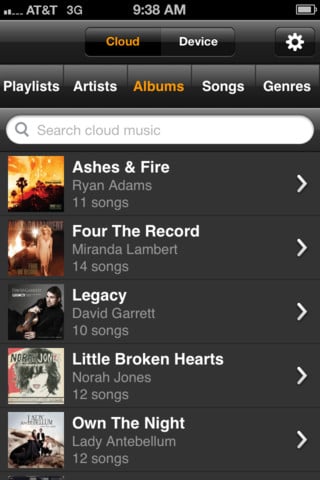 Also like the Android version, Amazon Cloud Player for iPhone can serve as a replacement music app. In addition to all of the songs in Amazon Cloud Drive, the app can play any music from the iPhone's Music app. The app seems to have trouble with album artwork for some locally stored albums, but has no problem playing the music.
The biggest advantage to using Amazon Cloud Player is that songs bought from Amazon.com never count towards the data limit in the Amazon Cloud Drive. Songs uploaded from other services do count for free users, however.
Users that purchased a lot of music from iTunes or other sources will likely need to buy additional storage in order to put their entire music collection in the Amazon Cloud Drive. Any paid Amazon Cloud Drive plan includes unlimited music storage. The least expensive plan offers 20GB for $20 a year.

As an Amazon Associate I earn from qualifying purchases.