Amazon Dash Button Review
If you need a quick and easy way to re-order frequently-used goods from Amazon, Amazon's Dash button aims to make that a reality.
Late last month, Amazon officially launched its Dash buttons for $4.99 each. Only available to Prime members, Dash buttons allow you to simply click a button and automatically re-order certain goods, like toilet paper, paper towels, coffee, trash bags, cleaning supplies, and more.
There are a handful brands that have Dash buttons, including Tide, Bounty, Cottonelle, Glad, and Clorox, as well as food items like Gatorade, Kraft Macaroni & Cheese, Smartwater, Maxwell House, and Izze.
The idea behind Dash is pretty clever, and it seems like the wave of the future for sure, but are Amazon Dash buttons ready for the masses right now? Do these buttons have what it takes to become a staple in every household? Let's find out.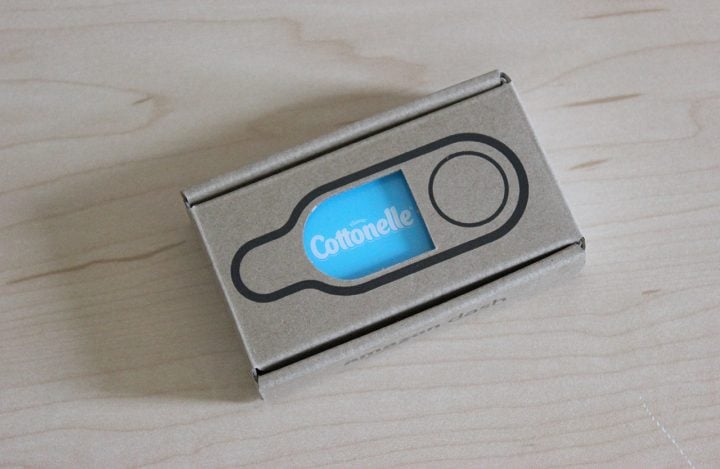 The Dash button arrives in a tiny box that reveals the button itself, as well as a set-up guide in the form of a small instruction booklet. When you first take out the button, you'll notice that it has a black casing around it with a loop at one end. This is the loop attachment that allows you to hang the button on a hook somewhere or use the sticky pad on the back for attaching to a wall or on the fridge.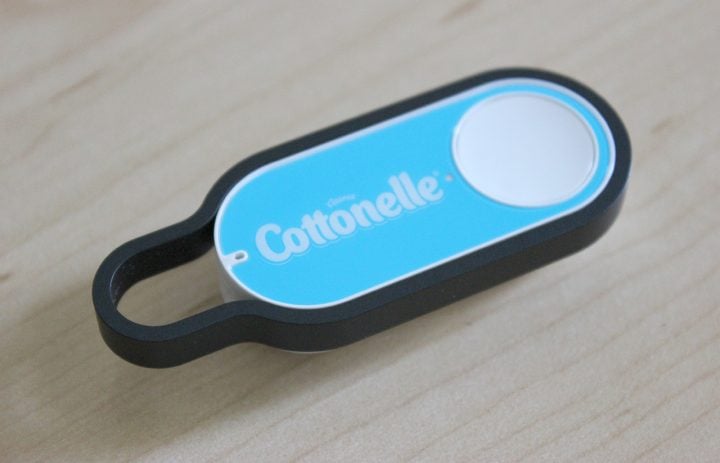 Setting up the Dash button takes just a couple of minutes and it's done through the Amazon app on your smartphone. Interestingly enough, the Dash button pairs to your smartphone using sound, rather than Bluetooth or WiFi, which is a bit interesting. However, after it's set up, The Dash button uses WiFi to communicate.
To set up the button, simply open up the Amazon app and navigate to Your Account and tap on Manage Devices under the Dash Devices section. From there, you'll select Set up a new Dash button and begin the process.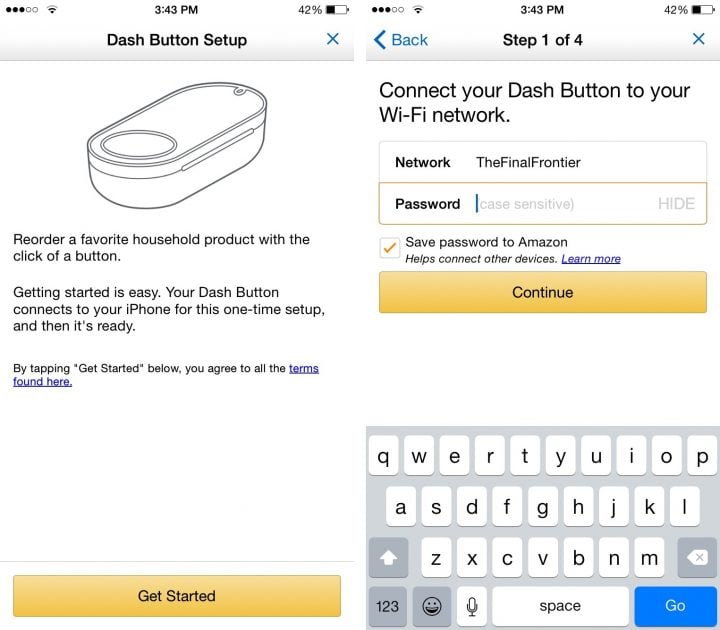 This involves connecting your Dash button to your home's WiFi network and then pairing it with your smartphone by playing a sound that the button hears in order to pair it up. After it's paired, you'll then select the product that you want ordered whenever you press the Dash button. This depends on the brand of Dash button you selected, but typically each brand will have 3-4 items to choose from. Since I have the Cottonelle Dash button, I was able to select from a couple of different kinds of toilet paper, as well as how many rolls I wanted.
After that, you'll set up which mailing address and payment method you want to use. I had an issue selecting the shipping method, though, as it defaulted to standard shipping instead of free two-day Prime shipping. When I tapped on it to change it, it took me to some sort of Support page, so this seems to be a bug that should get fixed eventually.
After you have the button set up, you can press the button to automatically and instantly order more toilet paper (or whatever you have set up). You'll then receive a notification on your smartphone (if you have notifications enabled for the Amazon app) about the order whenever you press the button. There's a slight delay, so if you accidentally press the button or a child gets a hold of it and goes trigger happy, you'll have enough time to cancel the order before it officially gets placed.
The Dash button is a really cool concept and all, but I really wish they were way more customizable. For instance, you have to buy a specific Dash button for a particular brand, and even then you only have a few options as far as what you can buy with the button.
There needs to be a Dash button that allows you to order whatever you want, as long as Amazon sells it and it's Prime-supported. Even then, the possibilities are endless and the usefulness of the Dash button would be insurmountable.
Ok, so setting up the Dash button to order a $500 pair of headphones every time you press the button is a bit unrealistic, but even if Amazon allowed you to program it to buy anything from Prime Pantry (for instance) would be awesome.
In the end, I just can't envision anyone spending $5 for a Dash button that badly, unless you go through so much coffee that you absolutely need a re-order button and use it constantly. Even then, there are only a couple of coffee brands that have Dash buttons.

As an Amazon Associate I earn from qualifying purchases.