30 Free Apps for Android Offer $100 in Value
Now that the brand new Amazon Fire Phone is officially available online and from AT&T stores, some app deals have arrived. This morning, Amazon announced a special deal on Android apps direct from the Amazon Appstore, delivering 30 paid apps completely free.
Whether you own the new Amazon Fire Phone, an Amazon Kindle Fire or HDX tablet, or any compatible Android smartphone and tablet, you'll be able to take part in this deal. It only lasts two days so read on for the full details.
Read: Huge Moto X Deal Slashes Price by $125
Choosing what apps to download can be difficult given the vast array of options from the Google Play Store, not to mention paid apps are even more challenging when you're spending your hard-earned cash. However, Amazon wants to give away 30 paid apps completely free, but the deal ends tomorrow at midnight.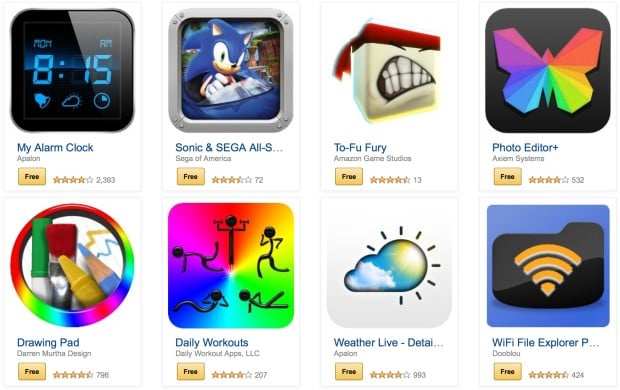 On top of the Amazon Deal of the Day for Android apps, which usually isn't that great, today Amazon confirmed they're giving all Android owners access to 30 quality and decent apps or games completely free. These aren't your average apps that no one knows either, and there's games you'll enjoy, or apps like Instapaper that I've personally paid for.
Currently Amazon has 30 apps available for free, and if you choose to download all 30 of their featured apps you'll be saving over $100 dollars. These aren't just cheap $0.99 games or apps, some usually retail for $2.99 and they even have Ultimate Guitar Tabs (7.99 value) completely free. Here's the full list of free Android apps available from the Amazon Appstore.
My Alarm Clock ($1.99)
Sonic & SEGA All-Stars Racing ($1.99)
To-Fu Fury ($1.99)
Photo Editor+ ($0.99)
Drawing Pad ($1.99)
Daily Workouts ($3.99)
Weather Live ($2.99)
WiFi File Explorer PRO ($0.99)
PDF Max ($7.99)
White Noise ($1.99)
CalenGoo ($5.99)
Carcassonne ($4.99)
Docs To Go Premium Key ($9.99)
Allrecipes Dinner Spinner Pro ($2.99)
Fraction Calculator Plus ($0.99)
Flightradar24 Pro ($2.99)
KAYAK PRO ($0.99)
Home Budget Manager ($2.99)
Convertor Pro ($0.99)
KeepTrack Pro ($1.99)
Bills Reminder ($3.99)
Ultimate Guitar Tabs and Tools ($7.99)
Food Diary and Calorie Tracker PRO ($3.99)
List Master Pro ($1.99)
Little Piano (Pro) ($5.99)
Instapaper ($2.99)
Essential Anatomy 3 ($24)
Language Coach ($9.99)
Oxford Advanced Learner's Dictionary, 8th edition ($29.99)
MathsApp Graphing Calculator ($4.99)
Some of the better apps and games include Instapaper, Ultimate Guitar Tabs & Tools, Docs to Go Premium, and even the classic Sonic & SEGA All-Stars Racing all made the list.
Unlike recent deals where most of the apps are quite boring or a waste of time, today Amazon has a bundle of 30 pretty excellent options. Many are well-known titles that most users have probably paid for already. However, if you haven't, now is the perfect time to snag over $100 in Android apps completely free.
Install Amazon AppStore
To install any of these 30 free apps you'll need to have the Amazon Appstore, rather than using Google Play. To do this users need to head to settings > security > and check the allow installing apps from "Unknown sources" then download the Amazon Appstore.
From here simply head into the Amazon Appstore and download the apps you'd like, or click install from the web using the deal link provided at the top of the page.
The Amazon Appstore has been around for a few years and continues to grow in size and popularity as Amazon's array of Android tablets continue to see success. As a reminder, once you install apps from the Amazon Appstore you'll need to keep it installed. Once the Appstore is removed the apps no longer function without it. It's a difficult thing to work around, but give some of the 30 awesome free apps a try today and enjoy.