Amazon Echo Is a Speaker That Acts Like Siri
In an effort to bounce back from poor Fire Phone sales, Amazon has announced a new product that aims to win over the hearts of Siri, Cortana, and Google Now lovers alike, and it's called the Amazon Echo.
The Echo is essentially a tall, thin, cylindrical speaker that listens to voice commands from anywhere in the room, and then relays any information back to you loud enough so that you can also hear it from across the room.
It essentially works just like Siri or Google Now does, but instead of the technology being baked into a smartphone, it's now a standalone product for those that want the virtual assistant experience without forking over a ton of cash for a smartphone.
It's not known what kind of technology is behind the voice assistant, but it seems that Amazon calls it Alexa, since you have to start each command or question with "Alexa," such as saying "Alexa, what's the weather like today?".
The speaker has an array of seven microphones that are pointed in all directions, and there are also sensors around the speaker that amplify certain microphones depending on where you are in the room to make sure that your commands are heard in almost any situation.
Of course, the Echo isn't just a virtual assistant. It also acts as a regular Bluetooth speaker, allowing you to connect your phone or tablet to it via Bluetooth and play music. Or you can use the built-in capabilities of Amazon Music, Prime Music, iHeartRadio, and TuneIn to start and stop music using just your voice.
You can even use Echo to set reminders and alarms, which is actually pretty useful, considering that I hate the stock Reminders app in iOS and Siri doesn't integrate with third-party options.
Amazon's Echo includes WiFi, so it's always connected to the internet and is always learning new information so that you'll always get the latest news whenever you ask for it.
The Echo will only be available for those that get an invite, at least for now. And Amazon Prime members will be able to grab one for just $99 for a limited time once the speaker officially launches, which a date for the release hasn't been disclosed just yet. Otherwise, the Echo will sell for $199 for non-Prime members.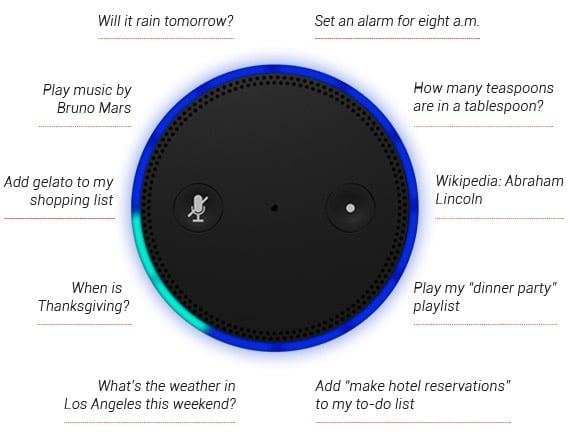 Frankly, $99 for the Echo isn't a terrible deal at all, and many decent Bluetooth speakers sell for that much, so getting Siri-like capabilities along with it is an added bonus.
However, the only problem with the Echo is that it has to be plugged into a power outlet, so it's mostly seen as a stationary device, but it can easily be moved to a different room. Essentially, it would be great if the Echo could hear you from anywhere around the house, but we're guessing that Amazon will try to sell multiple Echo devices to households so that users will have one for each room in the house.
Hopefully the Echo catches on, as Amazon hasn't had the best of luck with hardware products lately, especially with its new Fire Phone smartphone that provides a cool 3D display. It's mostly a gimmicky feature, and the phone doesn't offer anything special other than that, making it a tough buy for consumers.

As an Amazon Associate I earn from qualifying purchases.