Amazon Fire Phone: 10 Things Buyers Need to Know
After what seems like years of rumors and speculation today the retail giant Amazon finally announced its very own smartphone. In a crowded mobile market dominated by Apple's iPhone, Samsung's Galaxy range and other Android devices, the new Fire Phone looks to shake things up.
Amazon smartphone rumors have been swirling for years but earlier this month invites went out confirming it would be revealed today, and now we officially have all the details. After a short teaser video last week today Amazon took the stage for an intimate gathering and revealed its take on the modern smartphone. No Kindle branding here, that's for tablets. This is the Amazon Fire Phone!
Read: Amazon Prime Data a New Way of Selling Smartphones?
Of course the new Amazon Fire Phone is all about Amazon.com and its wide array of services, products and shopping. This phone is always ready to help you buy anything and everything, but more on that below.
Photos leaked of the new device earlier this year, complete with details surrounding the array of cameras (or sensors) on the front for an all-new "Dynamic perspective" and much more. Don't call it 3D, but the cameras on the front recognize your face and give you a feeling of depth and a dynamic, always-moving perception of whatever is on the display. Below we'll go over all the details regarding the new Amazon smartphone, what is has to offer, and what buyers need to know.
For year we've been hearing that Amazon wanted to make a smartphone, and now it's officially here. The original Kindle eReader took three years to build and perfect, according to Amazon, and the new Fire Phone had the same level of perfection and detail put into every decision.
Now for those wondering this device runs on Android, just like most Kindle devices, but you'll never be able to tell thanks to a highly improved and redesigned for smartphones Amazon Fire OS 3.5 interface. Everything is smooth, simple, and the grid of icons are not just apps, but also books, magazines, and other things you'd want to get to in an instant. No more opening a reader app to find your book, it can be right on the homescreen.
There is tons to talk about with the new Amazon Fire Phone, so lets get started.
Display
The new Fire Phone offers a 4.7-inch 720p HD display for a crisp and clear viewing experience. It isn't a massive device like the Galaxy S5 or Note 3, and keeps it manageable and usable with one hand. Many manufacturers (Apple included, reportedly) have been moving to bigger and bigger screens, but Amazon felt that 4.7-inches was the right size.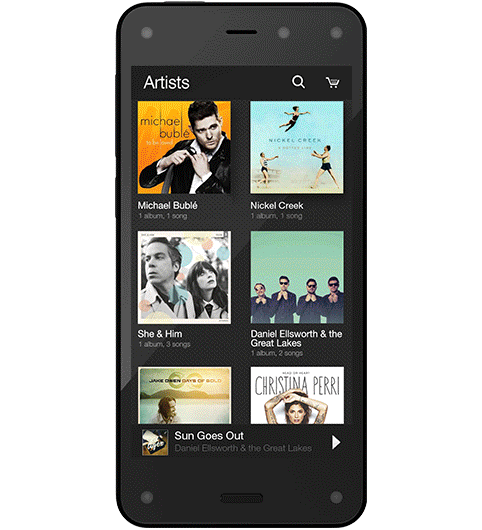 Amazon is using a 4.7-inch LCD panel with a 1280 x 720p resolution, but the key feature here isn't the screen, but what the screen can display. Using a brand new "Dynamic Perspective" technology, similar to 3D or the iOS Parallax effect, the phone and content moves with you, but more on that in a moment. Finally the display offers 590 nits of brightness, promising to look great even outdoors.
Design
Fancy 3D features and software aside this is still a smartphone, and users will be doing an array of things with it. Thanfully Amazon took that fully into consideration and the 4.7-inch device has a durable aluminum inner frame, strong scratch-resistant Gorilla Glass 3 covering the display, and oddly even glass on the back. We've seen this before, and it never ends well, but Amazon's Fire Phone is wrapped in a rubber molding on the sides for added protection and durability.
Amazon designed the phone with simplicity in mind. A single home button is on the front, which a double tap will offer Android multi-tasking and app switching, and aside from the four infrared camera on the front for the 3D effects, there's a 2.1 MP regular front facing camera.
There's dual stereo surround sound, which appears to be on the top and bottom, as well as a dedicated power/wake button up top. On the side you'll be greeted by a pair of buttons for the volume rocker, as well as a dedicated camera button that doubles as an instant launcher for an all-new feature called Firefly.
Overall the design is extremely simple, clean, and elegant, but has a certain iPhone look if you ask us.
Specs
Now before we get into software and the fact that nearly everything this phone offers is geared around you buying more of Amazon's books, apps, games, music, goods and services, lets talk about the specs. After all this is a smartphone that needs to compete with the iPhone 5S/6 and the Galaxy S5.
Fire Phone Specs
4.7-inch 1280 x 720p HD IPS display
2.2 GHz Quad core Snapdragon 800 with 2GB of RAM
13 Megapixel OIS camera, 2.1 front shooter
32GB internal storage (64GB also available)
4 front-facing infrared cameras to detect your face and head for Dynamic Perception features
Android operating system covered in Fire OS 3.5
Amazon AppStore with over 240,000 apps
2,400 mAh battery
Glass back
Overall the new Amazon Fire Phone has some pretty compelling specs aside from the display only being 720p in a 1080p and Quad-HD era. The rest of the specs line up with flagship devices from last year like the Galaxy S4 or LG G2, but offering 32GB of storage and no 16GB option is a nice touch. That and the camera features Optical Image Stabilization, something even the Galaxy S5 doesn't have.
Dynamic Perspective
Now that we've talked about the display or design, and what's under all that glass and the full specs, lets dig into the other exciting bits. While this is a compelling smartphone that should be able to sell quite well, there's tons of other additions from Amazon. One of the key selling points they'll be talking about are the four IR cameras on the front.
These are for a feature called Dynamic Perspective where the images on screen essentially move with you. Giving users a realistic 3D look and feel. More of a life-like and realistic feeling when you use the device. Motion is captured in a neat way and displayed on the screen.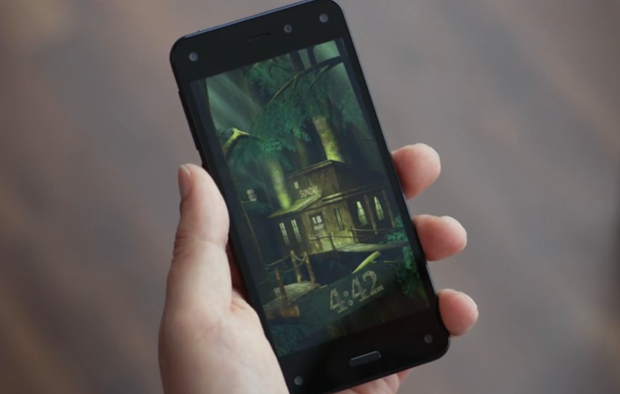 The cameras track your head and know where you are and when you're looking. This helps with text auto scrolling while you browse the web or read Kindle books, and offers the perfect angle for the dynamic perspective features at all times. Even at night. They have four in case one or two are covered by a hand, and the infrared works at night and through hair and beards.
We need to get our hands on the device to say more, but it sounds neat.
Firefly
Probably one of the most exciting (but most expected) features of the new Amazon Fire Phone is Firefly. Although it's way more than we expected. Firefly essentially can recognize nearly 100 million things around you, at all times. Everything from music and video like Shazam, to actual books, magazines, art, wine bottles, or any physical thing around the house. It uses the microphone and camera to sense and scan these things, and instantly gets you a match.
Firefly is like Google Search, and almost everything it finds or scans can be bought on Amazon.
The dedicated camera button is also a Firefly button that will scan a barcode and let you buy that item from Amazon, hear a song and let you buy or download it from Amazon Music, or recognize a movie playing nearby and offer Amazon Prime Video rentals. App developers can use this to their advantage like IMDB giving movie info, or Vino letting you scan wine bottles. The options are endless.
Firefly also works with books, phone numbers, as well as physical, web, or email addresses. It's pretty powerful, and always just a tap away with the dedicated Firefly button.
13 Megapixel Camera, Unlimited Storage
Like the LG G2 and the all-new LG G3, Amazon's new Fire Phone has a 13 megapixel camera that also features Optical Image Stabilization. They tout the camera as being better than the iPhone 5S or Galaxy S5, but we'll have to wait and see.
However, that all said one of the most important features of the camera is cloud storage. Using Amazon Cloud Drive you can store an unlimited amount of pictures from the Fire Phone right in the cloud. Instant backups. You'll never run out of space, and never lose a photo again. It's all available everywhere. On a phone, Kindle Fire tablet, or the web.
MayDay
Just like the Amazon Fire HDX tablet there's a feature that millions of average consumers will love. They call this MayDay, and it's essentially the best tech support you could imagine. Mayday offers 24/7 365 days a year, free live tech support that works within 15 seconds. Tap a button and a live Amazon MayDay staff member will help you with problems, give you tutorials on how to do certain things, and can even take over (or write on the screen) remotely to show you exactly what to do.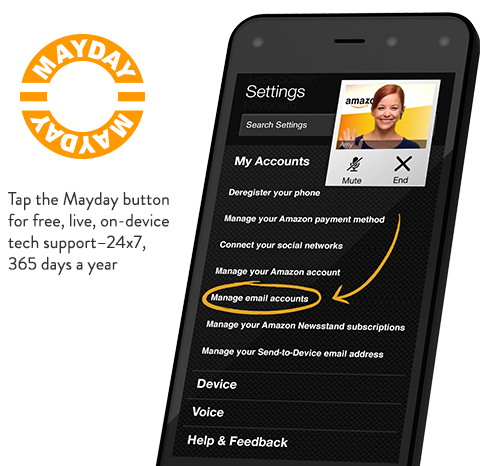 MayDay might sound a bit extreme, but for the millions of average consumers that don't want to search through endless Google searches or forums for an answer, let a qualified and personable (you'll get to see their face) MayDay rep help you out. Can't beat that, and you don't even have to have an iGenius Bar reservation.
Gestures
We didn't see too much of it on stage, so we don't have all the details yet, but Gestures will be important with this device. A flick of your wrist will bring up an Android-like sidebar menu for navigation no matter what you're doing, and other gestures will surely surface. There's tilt gestures for scrolling and much more.
Tilt the device while reading a book and once you find a comfortable auto-scrolling speed you can lock it in. This enables hands-free comfortable reading where you'll never be interrupted or have to touch the screen. Press down if you get distracted to pause scrolling, release your finger to keep on going. Neat right?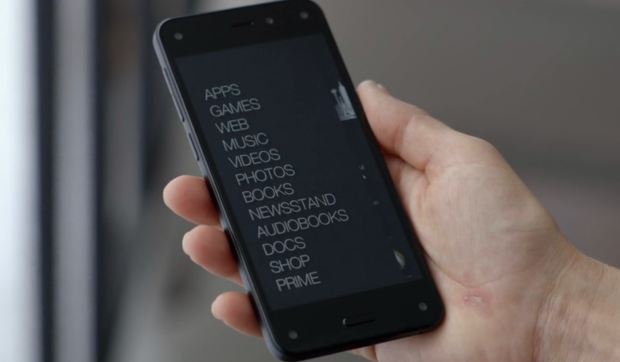 There's reportedly tons of gesture and motion controls that take advantage of built-in sensors, and the new cameras on the front, so stay tuned for more details.
Release Date & Price
Finally we have the release date and price. The all-new Amazon Fire Phone is available for pre-order right this moment, in the usual Amazon fashion. Head to Amazon.com now to reserve your own, but you won't be able to get it until July 25th.
The Amazon Fire Phone is available exclusively through AT&T for $199 with a new 2-year contract (this is the 32GB model, not 16) and can also be bought through AT&T Next for $27 a month. The 64GB model is $299, and they'll start shipping in time to arrive on July 25th.
All Amazon Fire Phone buyers will get 1-year of Amazon Prime absolutely free, which is essentially like getting the phone for $100 off. Making this a rather sweet deal. Who doesn't enjoy Amazon Prime anyways?
Final Thoughts
Ecosystem. It's all about the Amazon ecosystem here. The new Fire Phone is a powerful device with tons of features, but it's clear that the main focus is content consumption, and content purchases. Every time you use the camera Firefly could be trying to get you to buy a song, music, a shirt, or even that fancy coffee table at the store or a friends house.
The Amazon Fire Phone is a compelling device from the outside, but the overall experience will need to be tested before we give any final thoughts. The operating system looks fluid and smooth from what we've seen thus far, firefly was insanely fast at getting results (and suggesting Amazon.com purchases) and the new Active Widgets was a nice touch. The same carousel interface from the tablets gives users a widget-like preview below the icon of any and all apps. So while scrolling through you'll get little details of each app in the OS carousel.
Of course there's no Google Play Store here and everything is tailored around the Amazon experience, services, and store. If you're into that kind of thing. Stay tuned for more details.