Amazon Fire Phone vs iPhone 5s: What You Need to Know
Amazon announced its new Fire Phone today, which looks to enter the saturated mobile market that's already full of top-of-the-line flagship devices, including the iPhone 5s.
The Amazon Fire Phone is a 4.7-inch smartphone that compliments the company's current line of Kindle Fire tablets and it uses the same Fire OS and ecosystem that lets users take advantage of the many services that Amazon offers.
The Fire Phone will be available exclusively on AT&T's network for $199 after signing a new two-year contract, and this is for the 32GB version. The 64GB model will cost $100 extra.
Of course, the device has many features that separates itself from the rest of the herd, and it could give the iPhone 5s a run for its money.
Hardware & Performance
The Amazon Fire Phone comes packing with a Qualcomm Snapdragon quad-core processor clocked at 2.2GHz with 2GB of RAM and Adreno 330 graphics. Essentially, this is the best it gets in terms of hardware.
Of course, Apple's A7 64-bit chip is speedy as well, and it's really hard to compare two completely different chips, but you can bet that both phones are really fast and perform well.
As for the camera, the Fire Phone sports a 13-megapixel sensor with a f/2.0 lens and optical image stabilization. The iPhone 5s's 8 megapixels are far behind, but you should know that megapixels aren't everything and they aren't necessarily the deciding factor on how good an image will look. However, the f/2.0 lens and the optical image stabilization is something that puts the Fire Phone out in front as far as camera quality is concerned. Plus, the dedicated camera button that sits on the side of the device makes it really quick and easy to take a photo.
The Fire Phone also comes with its own earbuds, which look to be an improvement over Apple's own EarPods. The Amazon headphones have flat cables to prevent tangling, and there are magnets on each of the earbud pieces that can be used to clasp the two together to prevent tangling even more. It's certainly a decent idea, but whatever happened to just correctly wrapping up your headphones in the first place?
Perhaps one of the biggest features of the Fire Phone is its four cameras located on each of the four corners, which are used for head tracking and allows users to enjoy a 3D experience of sorts while playing around with the device, something that Amazon is calling "dynamic perspective." This is definitely something that the iPhone 5s doesn't have, but we'll have to wait a bit in order to try it out and see if this feature really is the truth, or if it'll end up being another gimmicky feature.
Software
So the hardware isn't anything too special when it comes to the Fire Phone, save for the head-tracking cameras, but the big features are in the software.
The Fire Phone runs Amazon's Fire OS and has the same user interface as the company's Kindle Fire tablets. By itself, it's nothing to write home about, but Amazon introduced some new features that have come to the Fire Phone.
Firefly is one of the headlining features, and it allows you to scan everyday items and instantly have it pop up the Amazon listing with the price, where you can buy the product right there. Firefly can also listen for music and even TV shows or movies and tell you what song or movie it is. Plus, just like with everyday items, Amazon lets you instantly buy media that you end up scanning.
Another big feature that's making its way to the Fire Phone is Amazon's MayDay customer service portal. It's been a big hit so far on the Kindle Fire HDX and now Fire Phone users can take advantage of it. If you need help with anything on the device, you can quickly call up an Amazon customer support representative and get connected in 15 seconds or less.
These kinds of features are where the iPhone 5s and other top smartphones can't compete. Apple's ecosystem of apps makes the iPhone 5s a good choice, but you can't beat Amazon's empire full of streaming music, TV shows, movies, and of course an entire online store where you can browse and buy pretty much anything that you desire.
Wrap-Up
The Amazon Fire Phone will officially launch on July 25 and will be exclusive to AT&T. The device will be priced at $199 after signing a two-year contract, or you can buy it for $650 off-contract on Amazon's website. Furthermore, anyone who buys a Fire Phone will get a free year of Amazon Prime, which is a $99 value. This means that you're essentially getting the Fire Phone for $100 off, dropping the on-contract pricing to a theoretical $99.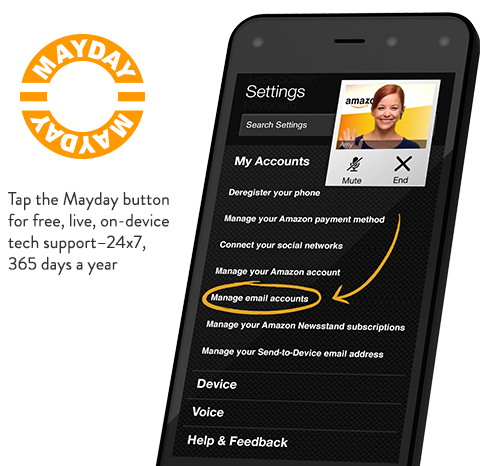 As with other Amazon products, they're a great buy if you're already deep into Amazon's ecosystem of services, especially if you're a Prime member. Kindle Fire tablet owners who use many of the company's services are no doubt getting the best experience, but if you don't use Amazon religiously, the traditional $199 price of the Fire Phone really doesn't turn any heads, and from that, the iPhone 5s still remains one of the best devices on the market.
Of course, we'll have to play around with the Fire Phone first and see if it's worthy of a purchase over the iPhone 5s, but it seems that if you don't use Amazon all that much for your entertainment and shopping needs, then you're probably better off looking elsewhere in the smartphone department.

As an Amazon Associate I earn from qualifying purchases.