I feel very much the same about Amazon's new Fire TV as I did about the first edition of Amazon's Kindle Fire Tablets. There's potential in this new born, but it hasn't found its legs yet. Like most infants it is pleasant to look at and celebrate the arrival. But time needs to pass before we can make any solid judgements on what kind of citizen we might have on our hands. It has most of its fingers and toes (some are due to arrive later we are told) and you can tell what it is supposed to be when it grows up. But how it develops and matures, while worth watching, is anybody's guess. Fire TV could become a market leader or just another so-so attempt to control your living room TV. We have a system for awarding Editors Choice Awards here on GottaBeMobile. To even consider the Fire TV for such an award at this stage would be premature.
The tent pole features of the new tiny set top box promise voice search, speed, gaming, and easy parental controls, in addition to access to Amazon content. The speed is there. Gaming might be worth a look some day. Parental controls make lots of sense for an extra cost. And voice search?  Let's just say that if all you want to use it for is searching Amazon's content then you'll feel right at home.
To call this a first generation device is not just accurate, it almost handicaps the desire to see what might happen down the road. Amazon's Kindle Fire Tablets eventually turned into something quite nice, but it took a couple of generations. I'm not sure the race to own your living room entertainment can wait quite that long.
The home entertainment space is getting plenty crowded with entries from Apple, Google, Microsoft and Roku already established. Amazon may have the resources to let things mature slowly with Fire TV and for new customers who limit themselves to Amazon wares, Netflix, and Hulu Plus content that might not be a bad thing. But when you compare the Fire TV to existing alternatives, there is a some catching up to do.
Content
Let's first talk about content before we get into the hardware and features. Amazon is all about selling you things, and in this case we're talking digital content. If you're an Amazon Prime subscriber who also subscribes to Netflix or Hulu Plus, then the Fire TV might be all you need. Amazon Prime content and all other Amazon digital content is ready for you to browse, search and buy right up front. Other services require an App to be downloaded. In addition to Netflix and Hulu Plus, you'll find Crackle, YouTube, Showtime Anytime, WatchESPN, Bloomberg TV, Vevo, and Pandora. You'll have to install each of the Apps and enter your credentials before using them.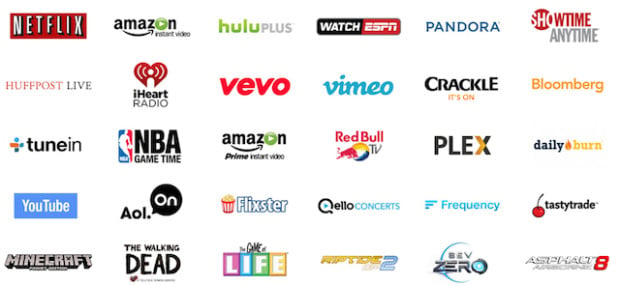 At launch you don't have access to any music you've purchased through Amazon. Amazon says that its Cloud Player will be available next month. That just seems weird and is probably due to licensing arrangements. You also won't find the popular HBO Go App. Amazon says that will make an appearance down the road as well. Amazon does distribute an API so developers can build Apps for the platform, so we may see more content providers making Apps down the road.
If you use Amazon's photo service you can view those on the Fire TV and use them as a screen saver. Amazon boasts a large array of Apps as a competitive edge, with promises of more to come.
Another odd omission. In the content categories, no where can I find Amazon's new original programming prominently displayed unless you've previously added them to your Watch List.
Amazon has recently been creating original series and I would have thought we'd see this prominently featured on the Fire TV, but that's not the case. A missed opportunity? I think so. You can search for the titles, but scrolling through the tile like interface and popular lists won't yield a tile for any of the new shows.
Hardware
One of the nice things about the evolution of home entertainment is that additions to any entertainment center like the Fire TV are small, almost indiscrete gadgets. In some cases like Google's Chromecast they are dongles. Perhaps one of these days cable companies will finally downsize their set top boxes as well.
These newer boxes also typically connect va HDMI and some come with optical audio jacks. This is the case with the Fire TV. On the back of the device you can plug in via HDMI, optical audio if you like, hook up to a wired LAN, and plug in the power wart. Yes, it's a small power wart. Note that you'll have to provide your own HDMI cable. Amazon conspicuously offers you that option when you order a Fire TV.
There is also a USB port but curiously it isn't active. So you can't attach a NAS drive full of ripped content or photos and stream to your Fire TV. Do note though that if you use Plex on your home computer that you can stream your own content to the Fire TV via that service.
The Fire TV box measures 4.5 x 4.5 x 0.7 making it slightly larger than an Apple TV and without the curved edges associated with Apple's hockey puck design.
There is one LED on the front face. Inside you'll find a Qualcom 1.7 GHz Krait 300 quad core processor, 2GB of memory and Qualcom's Adreno 320 GPU. There's 8GB of storage on board, although only 5.5 of that is available for you to use. Sum it up and those internal specs speak to the speed tent pole that Amazon is pushing. Compared to other similar devices I've used, you can't argue about the faster performance claims. Those specs also speak to Amazon's hope you'll do some gaming on the Fire TV.
The Fire TV comes with dual band WiFi with MiMo. The remote connects via Bluetooth which means you don't need a line of sight to connect. That's handy if you're across the room or sitting at an odd angle away from your Fire TV.
Read: Fire TV vs Apple TV: Which Should I Buy?
Starting Up and Performance
The promise of speed lives up to the hype. There's very little buffering or lag once you're up and running. Streaming Amazon video once you've selected a title is quick with no perceptible wait for buffering. Downloading games or Apps is also quite snappy. Other streaming content from other Apps takes a second or so longer. It's obvious that the internal guts were configured with speed as a priority for streaming content and gaming in mind.
Once you plug in HDMI and power (and optical audio if that is your preference) you're essentially, but not quite ready to go. Once you boot, the device will scan for wireless networks unless you've hooked up via a wired LAN connection. Once you enter in your network info, you're closer to starting up. On first startup a system update was ready to be downloaded and installed.
Then you have to watch an unskippable and somewhat childish video about how to use the Fire TV when you launch, but then most things get broken down to the lowest common denominator these days.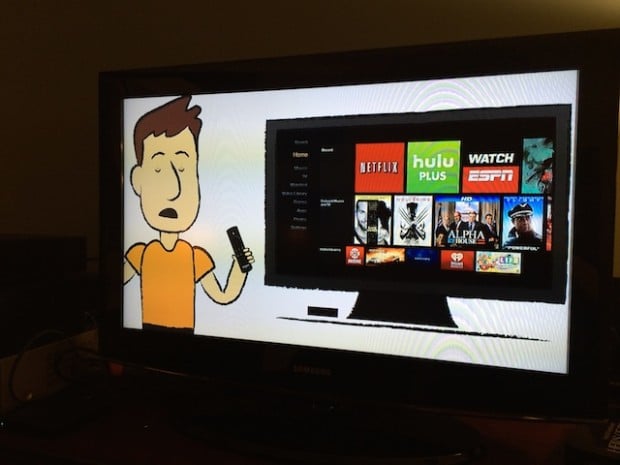 If you're already a Prime subscriber the Fire TV comes with your account and Amazon content ready to launch. To access other content via other services you'll need to download the Apps and enter your user name and passwords.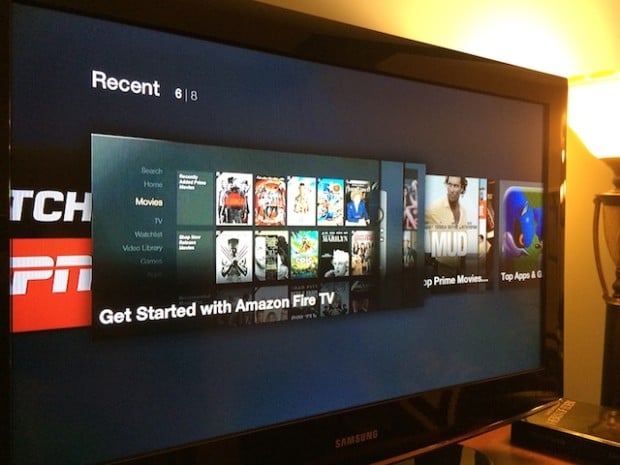 For Kindle Tablet users it seems there should be a way to bring info over automatically, but there isn't. With the exception of the system update and the intro cartoon, it is all quick, easy and relatively painless. It will be interesting to see how Amazon handles App and system updates going forward.
The Remote
The Fire TV remote is its own thing. It's almost triangular wedge-like shape differentiates it from any other remote in most remote collections. The button interface is nicely spare and include buttons for Home, Back, Play/Pause, forward and back.
In addition there's the microphone button for Voice Search. More on that below. There's a round navigation circle that allows you to move up, down, left and right through the various lists of content tiles that are available. And some games can be played using the remote. The remote is powered by two AAA batteries which are included.
Voice Search
The center piece for the remote and another of Amazon's Fire TV tentpoles is the Voice Search button. Press and hold down the microphone. Say a name of a movie, a genre, a star, etc… and voila your voice search results are delivered to your screen.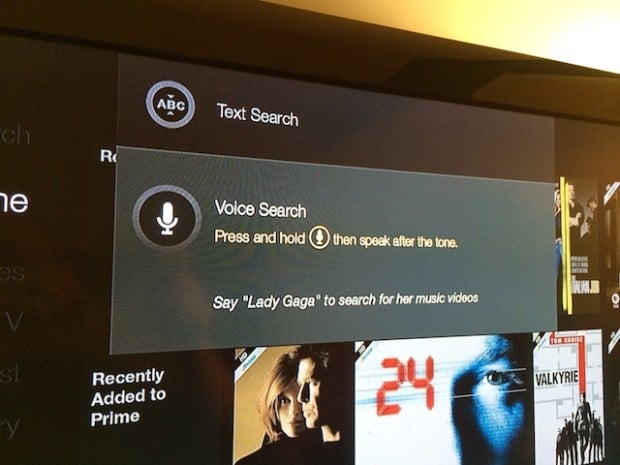 Assuming you are searching for Amazon content. Amazon made a big deal about this at the launch and even featured Gary Busey of all people in a commercial about it. Sad to say Voice Search is about as incomplete and misleading as Busey's acting career.
https://youtu.be/HHoNQrxG_8M
At the moment, regardless of what App or service you begin a search within, you are only given Amazon content as a result. I've seen some reports that say Hulu Plus content can also be returned if you have a Hulu Plus account, but I'm not seeing that in my experiences here.
But think about this for a second. You're browsing through Netflix for something to watch. You hit the Voice Search button. What do you see on the screen? In a test of this I was in the Netflix App, did a Voice Search for Philomena. After tapping on the search result I got the following screen: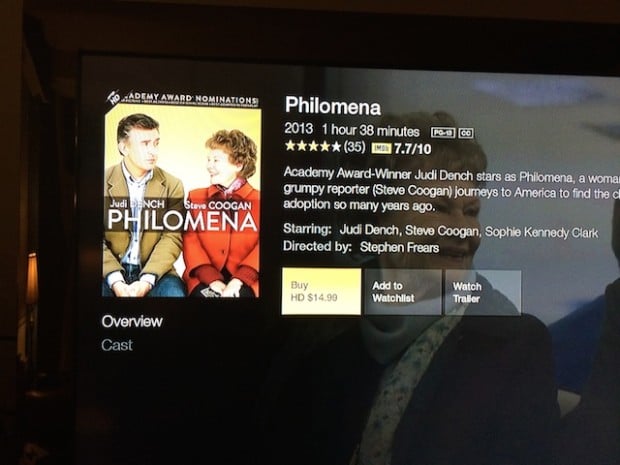 No where on that screen does it say where I would be purchasing that movie from. Now, veteran Netflix subscribers would know better. But I do think the fact that you aren't being notified that you are leaving one content source for another is a touchy proposition.
For some this will be disconcerting. For the cynical it will be just another way that Amazon wants to restrict or steer you to its content only. One would assume that Amazon could make Voice Search available to other developers. Whether or not that is possible is unknown as of this writing. I don't have a Roku device, but I understand that Roku provides a universal search (not voice) that brings up content from multiple providers.
As far as this tent pole is concerned, let's just say that it works as advertised technically, but not as one would assume it would when it comes to delivering search results. It's as sneaky as Amazon was in unveiling the concept in the first place. Amazon made a big deal about search for content on existing platforms being cumbersome. Voice Search doesn't solve that problem in this first iteration.
Amazon FreeTime
Amazon calls it parental control system Amazon FreeTime. (For the Kindle it has been called Kindle FreeTime.) Like music it is listed as coming next month. The idea isn't new. Parents need a way to control what content children access and Amazon's FreeTime is the vehicle to do that.
Access to Amazon FreeTime Unlimited will cost $2.99 a month, which seems an odd choice to me. Given that many living rooms are filled with small children, I'm not sure why Amazon feels like it should charge extra for this kind of service, especially given the recent price increase for Amazon Prime.
Read: Amazon Prime Cost Boosted to $99 Per Year. Is It Still Worth It?
Regardless, when FreeTime is active the screen background will turn blue instead of the customary black to let parents be able to recognize at a glance if it is activated or not. The only content that is available is that which children have permission to watch based on restrictions parents set. Up to four kid profiles can be set up at the same time, and daily time limits can be set as well.
Gaming
Amazon looks like it wants to own a piece of the home gaming market with the Fire TV. Based on the specs of the device it might compete on some levels. Will it be in a battle with consoles? My thinking is no. But for those who like gaming on a Tablet it will probably suffice.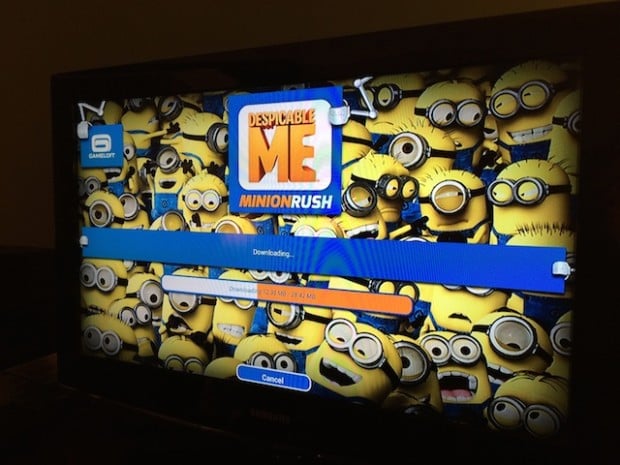 Amazon makes and sells a controller separately for $40. I didn't order one, nor am I a big gamer, so I would suggest watching other reviews to see how will the Fire TV holds up as a gaming device. The few games I tried seemed snappy and fast to both load, install, and play.
Scrolling through available game titles it is nice to see when a title can use both the included remote or the separately sold controller. The new games Amazon is touting prominently tell you if they use the remote only.
Games that require in-App purchases also have that info prominently displayed.
Second Screen
For those who have a Kindle Fire HDX Tablet it can be used easily as a second screen. If you don't have an HDX model, you're out of luck on this front. Start a video on the Fire HDX and you can than fling it to your Fire TV. That behavior is nothing new to those with familiar with Apple's AirPlay. Once the video is on your TV you can use the Fire HDX to pause, play, rewind, or use it with the X-Ray service that is powered by IMDB to get more info about the movie, if it is available. (It isn't always.)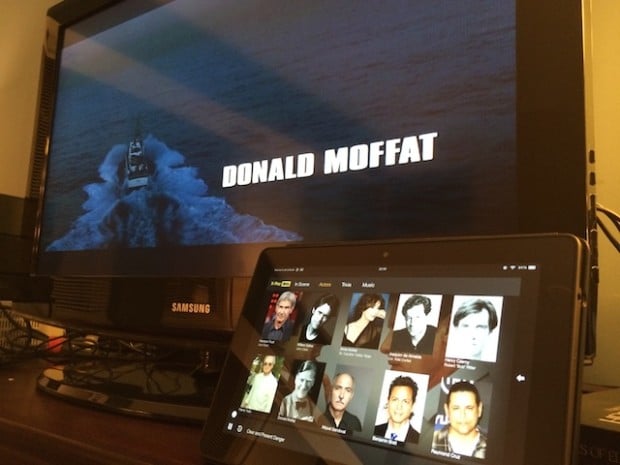 Note that you can't flick content from services such as Netflix from your Kindle Fire HDX Tablet to the screen. You'll need to start the designated App on the Fire TV. Although you can flick Netflix content from a Kindle Tablet to Google Chromecast.
Again, in what is starting to sound like a familiar refrain, Amazon says support for flinging content in iOS and some Android devices is coming down the road. Although I don't think we have an Amazon Instant Video App on Android devices at present. I could be wrong on that.
Tricks of the Trade
It should be apparent to any who are paying even the slightest bit of attention that Amazon's devices are all about getting you to buy content from its stores. The Fire TV is no different. One interesting thing to note, there is no shopping for anything other than digital content on the Fire TV. I would have thought we'd see a way to fill up a shopping cart with non-digital content, but there is no Shopping Cart.
Make no mistake. Fire TV is designed to steer you directly to Amazon versions of digital content first. There's nothing really wrong with that. But that knocks this first generation Fire TV down a peg from being a revolutionary content display device. The Fire TV becomes yet another portal into a silo just like its competitors.
Amazon has a few more tricks up its sleeve beyond the Voice Search gotcha mentioned above. The way Amazon displays content selections on the Fire TV screen would make any huckster proud. Given the tile like approach it is often hard to discern from across the room if a given title is Prime eligible (meaning free to watch).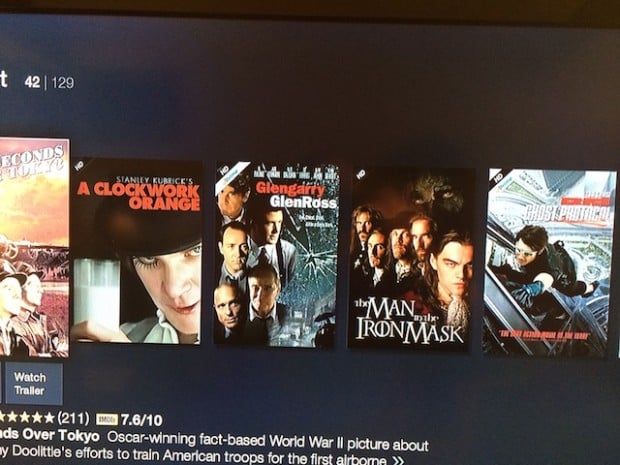 Don't worry you still have a button or two to click before you make a purchase, but it is a seductive trick. You also won't find content from other providers in the Recent screen, nor will you find recommendations from other sources.
Again, there is nothing wrong with this behavior on Amazon's part. But there is a slyness to it that gives one pause and makes one question where Fire TV may be going.
Amazon touts that its Fire TV service will learn what you want to watch before you ask for it and cue up that content for faster streaming. There's no way to test that yet given how new this all is. But I can imagine if one selects a full season of a TV show that this would be easy to do. That said, if your viewing tastes are as eclectic as mine I'd like to see how Amazon could even possibly guess a recommendation. They don't do all that well on their website in my case.
Read: 5 Reasons I Bought the Amazon Fire TV
Read: Why I Skipped The Fire TV and Bought an Apple TV
Conclusions
As I said in the beginning Amazon's Fire TV is a first generation device. It has launched with some promising potential, but also promises that things missing now will appear soon. If you're a Kindle Fire HDX Tablet owner, or even if you're just a consumer who has chosen Amazon for your primary digital content provider, the Fire TV may be a good way to get your feet wet and fill an HDMI slot on the back of your TV. There appears to be enough processing power in the Fire TV that updates Amazon may make in the future won't diminish the $99 hardware investment any time soon.
If you're attracted to the device because of Voice Search, you probably want to hold off a bit and see if Amazon lets other developers use that capability. Amazon hasn't solved Search, but then no one else has either.
Will the Fire TV hold up well against the Apple TV, Google Chromecast, Roku, and other options? Probably. Each of those services regardless of their maturity is still very much a work in progress, though some more than others.
Amazon has birthed a new device, but like all new borns, viewed objectively, it is essentially like all the rest. What will distinguish it will be how it is nurtured and developed along the way.

As an Amazon Associate I earn from qualifying purchases.