Amazon Fire TV Update Finally Adds Music But Without Prime Music
A couple of weeks ago Amazon announced a Fire TV update would be slowly rolling out that would deliver Amazon FreeTime, Amazon's parental control concept to the small set top box.  FreeTime was touted as a Fire TV feature when Amazon launched its Apple TV competitor in April. Also missing from the beginning was a way to play music purchased from Amazon or music stored in Amazon's cloud. As we mentioned in a recent post, this seemed odd.
Over the weekend that oddness went away as Amazon pulled the trigger on a Fire TV update that brings both Amazon FreeTime and Music to Fire TV users. Intriguingly though, the music offering doesn't include access to Prime Music, Amazon's streaming service that was also recently announced. We covered the Amazon FreeTime announcement here, so we'll focus on the Music offering in this post.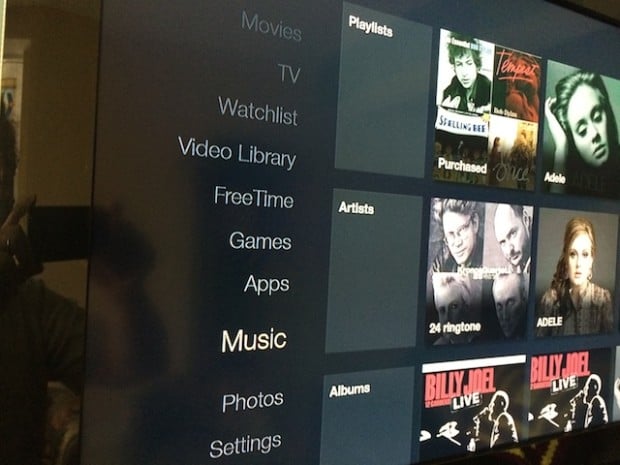 Fire TV users will find a new listing on the left side of their home screen for access to their music as well as a new listing for FreeTime. Selecting the music option will reveal carousel-like scrollable categories that include Recently Played, Albums, Playlists, Genres, and Artists.
Make a selection and you've got music playing via your Fire TV and however you've hooked up your home audio system. (You have two options: HDMI or Optical cables.) For those wondering if Amazon's proudly positioned Voice Search works, the answer is yes but not completely. Hit the search button, speak the name of an artist or an album name and you'll get the results from your library. Speak the name of a playlist or a genre and you'll get close sometimes and miss others.
Amazon classifies each album as a playlist in my collection. Certain generic categories bring up successful results. Jazz brings up jazz albums in my collection, but to get to my extensive selection of Rock & Roll I need to search specifically for just "Rock." I've had the most luck searching by artist name and drilling down from there if I want to find  specific song. From what it looks like in early testing searching for playlists via Voice Search isn't very successful.
For example, I have two playlists I've created called Houseparty and Houseguestsfamily. Neither of those will show up via a Voice Search. In fact if I search for Houseparty, I'll get results for movies that have house party in the title, along with a few TV selections, but nothing in music. I've also created four OnTheGo playlists (OnTheGo, OnTheGo2, OnTheGo3, OnTheGo4) and none of those will show up via a Voice Search. So, I'd say the integration with music and Voice Search is still very much a work in progress.
Playing music works as you would expect. Select an album or playlist hit play and you'll hear your music. You can shuffle selections within a playlist or an album. If you're in an Amazon browsing mode, you can start music playing and continue to browse other categories of content while you scroll through the choices you have available to you.
If you want to have music accompany a visual screensaver you'll need to choose your music selections and then return to the Fire TV home screen and wait for your screensaver to kick in with the timing you've selected. If you stay in the music section you'll just see a static view of the selected album cover art. Or you can go to settings and choose Display and Sound then Screensaver and hit the preview button if you want the visuals to start up quickly. Separately, on the Fire TV Home screen you'll find the first tile in the Recent carousel row displaying which song you're playing along with a small animated equalizer sound bar.
Read: Amazon Fire TV Review
The omission of Prime Music is an odd one. I don't think it will be missing for long as Prime Music would be a key music discovery service for Amazon Prime subscribers to listen to new music that theoretically would lead to purchases. While Prime Music doesn't have the same large catalog of titles that other streaming music services offer, it does at least allow users to listen to some music free before deciding to make a purchase. Prime Music's catalog of songs currently stands at 1 million.

As an Amazon Associate I earn from qualifying purchases.