Amazon FireTV Set to Take on Both Apple TV and Xbox One
Things are about to get even more interesting in the living room space. After years of relying on Microsoft and Sony to deliver its Amazon Prime offerings to users, the company is introducing Amazon FireTV, a set-top box that's meant to offer users streaming video and take on the PS4 and Xbox One in the casual gaming market.
Amazon announced the $99 FireTV, which is shipping today,  at a press event this morning. The box itself is diminutive. It's not even taller than a dime, according to Amazon. The company doesn't want the size to fool users though, the FireTV is packed with a very capable quad-core processor and a dedicated graphics processor so that its interface isn't bogged down when browsing content like so many set-top boxes. There's also 2GB of RAM. Users will be able to place the device anywhere thanks to built-in Wi-Fi and it should connect to virtually any modern television set since it also sports HDMI output.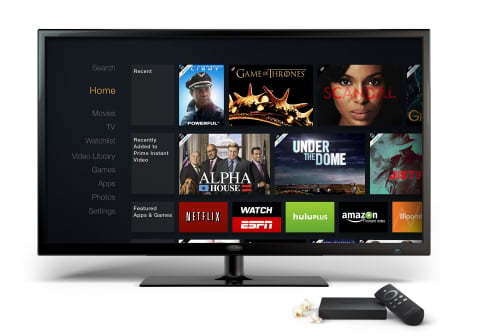 Amazon is gearing the device at users who like playing games but aren't convinced an Cbox One or PS4 is worth the price. Disney, Gameloft, EA, Sega, Ubisoft, Telltale Games, Doublefine and 2k have all signed on to create titles for the console. Users will be able to control these games with a $39.99 add-on controller that'll also include tokens that buyers can use to redeem games. Amazon showed off Minecraft for the FireTV on stage. Amazon says there will be over 1,000 free-to-play games and average titles will cost $1.85. Amazon did showcase a few titles that were already in development for the console.
Amazon is relying on its voice search technology to blow away users and help it compete against the AppleTV and Roku. A small remote with a built-in microphone will allow users to search for content they want to watch or play. The FireTV's ASAP system tries to predict what users want to watch. X-Ray will allow users to learn more about what they're watching through the FireTV, and it'll also display lyrics for any song that's being streamed from Amazon's music service.
Amazon is also bringing the FreeTime options from its Kindle Fire tablets to the FireTV. Parents will be able to customize their child's interface and ensure that they're not watching any material that isn't family approved.
Users will be able to stream content from Hulu, Netflix, watch ESPN, MLB TV, Vimeo, NBA and YouTube.
That Amazon would introduce its own set-top box for gaming and other forms of entertainment makes sense. The company makes millions off the disc-based television shows and games today. As those products become more digital focused, Amazon needed to have a way of maintaining that revenue and staying in front of users.
In fact, Amazon couldn't have picked a better time to try to disrupt the gaming market. The Xbox One and PS4 offer a lot of features, but they're expensive. Whether users who want to play casual games would pick up either of the consoles has been up for debate for some time. The Xbox One costs $499, the PS4 costs a slightly more modest $399.

As an Amazon Associate I earn from qualifying purchases.