Amazon Fire TV v. Apple TV: Which Should I Buy?
Amazon announced and released the Amazon Fire TV on April 2 to compete with other miniature set-top boxes and streaming video devices like the Apple TV, Roku Box, Roku Stick and Google's Chromecast. The early indications seem promising, thanks to the blend of features, services and apps they will offer with the device.
How does the new streaming device compare to the Apple TV? We put them side by side to compare features, strengths and weaknesses of the two boxes.
User Interface
https://www.youtube.com/watch?v=HHoNQrxG_8M
The Amazon Fire TV takes its name from the popular Amazon Kindle Fire tablet, which runs on top of Android with a special interface built by Amazon. The device puts Amazon's services and their store front and center. Now users can enjoy that simple Kindle Fire-like interface on the TV.
The Fire TV uses a menu along the left hand side of the screen. The Fire TV remote, or the optional game pad, navigates up and down the menu. When the user highlights a menu, rows of movie posters and app icons will show up on the main part of the screen. Move right to highlight one of these posters or icons and hit the center of the circular directional buttons to select it. It's easy to use. Thanks to the voice search, built into the remote, getting to content can't get much easier.
The Apple TV user interface looks less cluttered, but it also offers fewer options. Users can rearrange them on-screen based on their preference, something Fire TV users can't do.
Each comes with strengths and weaknesses, but neither looks or works better than the other. Given the larger selection of options with the Amazon Fire TV, the user interface organization makes finding things easy, especially via voice search. However, Apple TV looks a little simpler. If simplicity and customization is important, then the Apple TV may offer a slightly better choice.
Streaming Video
People will likely use these boxes most for streaming video. The Amazon Fire TV lets users stream content from Amazon's library of movies and TV shows. Amazon Prime users can get a library of movies and older TV shows that users can watch on the new set-top box.
Both boxes include the most popular streaming video services like Netflix and hulu Plus. The Fire also offers these streaming video services:
Showtime Anytime
Plex
Crackle
Vevo
AOL On
WatchESPN
Expect the number of video streaming apps to increase quickly, especially if the box sells well. Since services can submit an app to the Amazon App Store and make it available on the Fire TV, the Fire TV will quickly include a larger library of apps than the Apple TV, unless Apple stuns us by opening up their box to developers. They haven't, so far.
The Apple TV includes the above viewing services as well, except for AOL On. It also offers others not yet available on the Fire TV. Apple does a better job of adding services, but don't expect them to open it up to developers like Amazon did.
We did a spot check of five movies and five TV shows to see how they compare. Here's our list:
TV Shows:

24 The Complete Series – Amazon includes the show via Amazon Prime Instant Video free while Apple charges either $30 or $40 per season.
Veronica Mars – Amazon includes the show in Amazon Prime Instant Video free while Apple charges $35 for the 1st season and $45 for the last two.
The Walking Dead Season 4 – This costs the same $43 on each service.
Alpha House – Only Amazon Prime Instant Video includes this Amazon exclusive show.
How I Met Your Mother finale – Both services charge $3 for each episode in the two-part series finale for a total of $6.

Movies:

Secrete Life of Walter Mitty – Both offer it for purchase at the same prices.
Chariots of Fire – Both offer it but Amazon includes it for free in Instant Video while Apple TV offers for $14.99 or $3.99 rental.
The Hobbit: An Unexpected Journey (Extended Edition) – Both offer this version for purchase at $19.99 in HD but Amazon charges only $6.99 for the SD version while Apple charges $14.99.
The Hunger Games: Catching Fire – Both services offer the movie at the same price.
Frozen – Both offer the movie for the same price.
This spot check doesn't give an exhaustive or scientific analysis of each service's quality, but it highlights key differences between Apple TV and Fire TV:
Both boxes will likely include the latest movies for about the same price, even if they're released early.
Each will get exclusive access to certain shows or movies.
Amazon's Prime Instant Video service offers a big edge over Apple TV since Apple doesn't offer anything like it, but Prime adds $99 to the cost of using the Fire TV if users want to get these shows.
Each service will offer sale prices that will undercut the other.
Apps
The Apple TV comes with a limited number of apps, and all of them show either streaming video or music. App developers can't create an app and submit it to an Apple TV app store, like they can with the Amazon Fire TV. That means the Fire TV clearly bests the Apple TV in this area.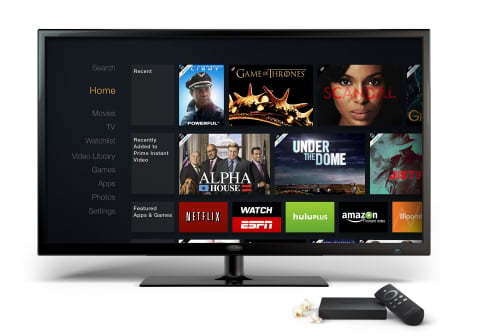 Apple overcomes this limitation through AirPlay. Users can display content from their iPhone, iPod Touch or iPad on a TV using AirPlay which sends the signal via the user's Wi-Fi home network.
The Amazon Fire TV, however, also lets users beam content from a Kindle Fire tablet.
Games
Gaming sets the Amazon Fire TV apart from the competition. It comes with an optional game controller for $40 and offers some impressive games. At launch the Fire TV offers over 100 compatible games that work with the controller. This makes the Fire TV a potentially great gaming platform for less than the cost of an Xbox or Playstation.
Gamers can use AirPlay to play games on the Apple TV as described above. There's a few nice option that take advantage of this, but nothing close to what we get with the Fire TV, and the iPhone or iPad doesn't compare to the Fire TV controller.
Hardware
Hardware specs don't mean a lot if the software running on top of that hardware doesn't run well. Each runs smoothly, so detailed specs don't matter that much. Still, the Fire TV bests the Apple TV with a quad-core processor compared to a single-core and 8GB of user accessible storage versus no user accessible storage on Apple TV.
The back of the boxes look similar and include:
HDMI hook
Optical audio for Dolby Digital surround sound
10/100 Ethernet
802.11 a/b/g/n Wi-Fi
AC
USB 2.0 (Apple uses micro-USB while Amazon included full-size USB)
The micro-USB port on the Apple TV only connects the box to a computer to update the Apple TV's software if there's a problem getting the update over the Internet. The Fire TV's full-sized USB connection may offer future storage expansion, according to Amazon VP Peter Larsen. Users could add a memory stick or hard drive of videos, music or photos to enjoy over the Fire TV if Amazon opens it up as Larsen implied.
Amazon borrowed a design cue from the aluminum Apple TV remote. It feels better in the hand thanks to the larger size and softer material. The dedicated buttons for home, back, menu, play/pause, rewind and fast forward make it more like a traditional remote. New users will feel more at home with it. The remote's shining feature is the voice search, which lets users find content by speaking into the built-in mic. This takes more battery power, so it uses 2 included AAA batteries instead of Apple's coin-style battery.
Amazon offers a helpful comparison chart between the Fire TV and other hardware on the Fire TV product site. Here's a list of the key highlights:
Fire TV uses a quad-core processor while Apple TV sports a single core.
Apple TV doesn't use user accessible storage while the Fire TV offers 8GB for user installable apps.
Apple TV doesn't include MIMO, which makes Wi-Fi potentially faster with routers that support it.
Apple TV's width and length take up less space but it's also thicker than Fire TV.
Apple TV's power cord won't take up as much space since it doesn't include a large brick to plug into AC like the Fire TV does.
There's no optional game pad for Apple TV like Fire TV offers.
Ease of Use
Installing the boxes will seem easy for the technologically savvy user. Novices can follow the instructions and get each box connected and working without too much trouble. Connecting the Fire TV game pad can get complicated. It requires accessing the settings, but anyone can follow the included instructions and get it connected.
Neither box excels when it comes to configuring accounts. Using a tiny remote to select letters for entering user names and passwords is annoying. Once the Apple TV gets connected to a user's iCloud account and Wi-Fi or Ethernet network, the person can use an iPhone or iPad and the Apple Remote app to enter text on the Apple TV. That's not yet possible with the Fire TV.
Voice search on the Fire TV makes finding content in the Amazon store easier than it is on the iTunes store. We only wish it would search Netflix or other apps, and that it included voice recognition for entering data too.
Price
Both boxes cost $99, but that doesn't tell the entire story. The Apple TV comes with fewer extra costs than the Fire TV. Amazon Fire TV users will want to pay for an Amazon Prime account to get the most out it. This adds another $99/year. To enjoy gaming on Fire TV, add $40 for the game controller. That brings the total cost of ownership of the Fire TV to $240 the first year and $100 each year after that for Prime. Current Prime customers only pay $80/year and can extend that a year with a trick we shared, but everyone else must pay the full $100. Add to this the cost of games, apps and videos purchased from Amazon.
The Apple TV also sells videos of recent movies or TV shows. It doesn't offer a subscription service like Amazon Prime. Before people think that means it costs less, consider this: to get the same kind of streaming video library available to Amazon Prime Instant Video users on an Apple TV a user will need to subscribe to Netflix. This adds $8/month, or $96/year.
The Apple TV offers gaming through an iPhone or iPad using AirPlay. The Fire TV uses a dedicated gaming controller. This adds either the cost of an iPhone or iPad to the Apple TV or the cost of the $40 controller to the Fire TV.
Which One to Buy?
We recommend that people heavily invested in Amazon media get the Fire TV. Those with lots of Apple iTunes content should go with Apple TV. People who enjoy games will want to get the Fire TV. Besides these considerations, it's a matter of preferences. Due to the newer hardware, voice search and ability to add apps and games, the Fire TV makes the best choice for people who don't already own a lot of content from either store.

As an Amazon Associate I earn from qualifying purchases.