Amazon Hints at New Apple TV for October 23 Release
An Apple TV refresh has been rumored to be coming this fall for the last few months, and it wouldn't be an Apple event without speculation of a new Apple TV on the way. Amazon's French and German websites are hinting that a new Apple TV will release on October 23, which is the day after Apple's October 22 event next week, when the company will announce new products.
Amazon's French website originally sold out of Apple TV units, and said that more will arrive on October 23. They're back in stock now, but this time it's from a third-party retailer, rather than Amazon's own stock. The October 23 date could simply be when Amazon will get more units in stock, as that has been the case with several past Apple TV rumors, but the date certainly doesn't seem coincidental.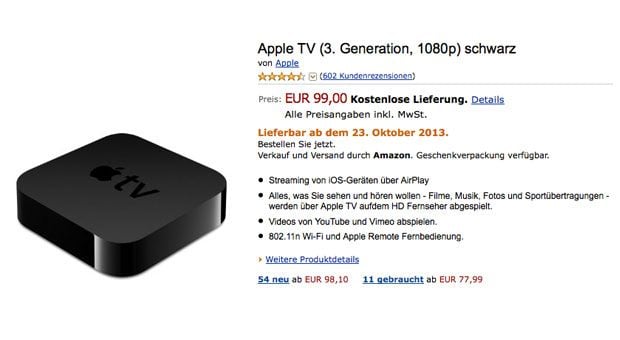 Furthermore, it's odd to see Apple products like this sell out. The Apple TV isn't a huge seller, especially at this time of the year when the third-generation Apple TV has been out for almost a year and a half, so we're a little surprised that they're becoming sold out on Amazon. It could be because the retailer is limiting stock and getting rid of inventory to make room for new models.
Then again, it could just be a complete coincidence, with Amazon genuinely running out of stock and more units not shipping in until October 23. Plus, based on rumors what we're hearing about Apple's event next, the company will most likely have a full plate of topics to discuss, including a new iPad, new iPad mini, further details about the Mac Pro and OS X Mavericks, as well as the possibility of new MacBook Pros on the way.
As far as what to expect in a new Apple TV, there haven't been many rumors on hardware specs, but we'll most likely see faster internals along with a smaller overall design in order to fit more comfortably in a crowded home entertainment setup. We could also see even more channels arrive on the software end. Apple is constantly adding new channels, so a hardware refresh could be another excuse to add even more content to the company's TV box.

This article may contain affiliate links. Click here for more details.