Amazon Instant Video for iPad Now Available
iPad users now have another way to get video onto their iPad with the new Amazon Instant Video app.
Today Amazon released Instant Video for iPad, an app that grants users complete access to the Amazon Instant Video library. Amazon Prime Subscribers can now enjoy free streaming of Prime Instant Videos.
Like the Amazon Instant Video web service, iPad users can stream HD content to their device for easy watching. The app also lets users download purchased or rented videos so they can watch the content when not online. It's great for Wi-Fi iPad owners who don't want to buy a mobile hotspot for constant web access.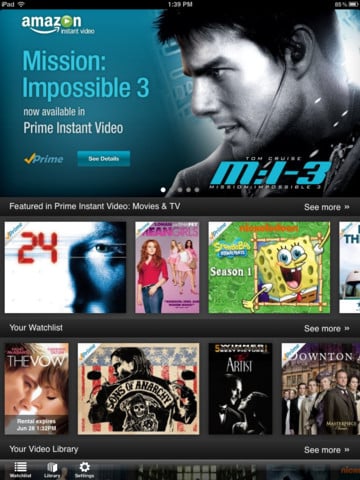 While the app does let users watch content they purchased or rented from Amazon, users can't rent or purchase the content through the app, likely thanks to Apple's in-app purchasing rules. Like the Amazon Kindle app users need to rent or buy the content through the browser then open the app the view it.
Videos that are part of Amazon Prime Instant Video are readily available to stream through the app, though users cannot download them.
Despite the eccentricities, the Amazon Instant Video app for iPad is pretty good. The video looks great on the new iPad, and it's nice to have another option for movie and TV show purchasing.
It's great for iPad users who lack an Apple TV, but have a smart TV, Xbox 360, or PlayStation 3. Amazon Instant Video is available on each platform, and Whispersync makes sure progress in a video syncs between each device. It's not as seamless as using an Apple TV with AirPlay, but it's a great alternative.