Amazon Instant Video Finally Released for Android
Starting today Amazon is finally giving the millions of Android users a way to watch the huge collection of movies and TV available from Amazon Prime Instant Video. While today is Apple's big event for the iPhone 6, Amazon and Android users will happy to learn this has finally arrived after what seems like years of waiting.
Amazon Prime users have been able to stream content from Instant video to a wide array of platforms for a long time, iOS included, but for whatever reason this was never an option on Android, until now.
Read: Amazon Instant Video for iPad Now with Airplay
For those who don't know, Instant Video is an extension of the popular Amazon Prime service that delivers all Prime members a Netflix-like service. They have hundreds of thousands of movies, TV shows or series and more. Now Android Prime users will finally be able to watch Breaking Bad, catch up on the Sopranos, or watch movies from the huge library offered by Amazon.
Amazon Prime Instant Video is an excellent and stable service that's been available on streaming devices like the Roku and built into TVs for years, and should have been on Android years ago as well. They offer access to HBO, tons of movies, TV series and more all for free. Some titles you'll have to rent, but a vast majority of it is all free for Prime subscribers.
However, it's not all good news, as the system and process you'll have to go through in order to enjoy Instant Video on Android isn't the easiest. No, they couldn't just release a simple app to the Google Play Store for Prime users to download and instantly access. Instead, it's a bit more complicated than that.
We're not sure if it's because Google wouldn't allow the app to be available from the Google Play Store, which is doubtful, but for whatever reason Amazon will require you to jump through a few hoops and download their main app first, then inside of the Amazon app install the new Instant Video application. Here's how to do it.
Instructions
Head to the Google Play Store on your Android device or from the link here and download the newly updated official Amazon App for Android. It's better than using the web to make purchases on Amazon, so it's probably worth keeping installed.
Once you've downloaded the Amazon app from the Google Play Store users will then need to tap the three lines in the top left, or the setting button, and in settings select "Amazon Instant Video" from the list. This takes you to the collection of Amazon Instant Videos available, but you can't watch anything yet.
You'll then need to find some content you'd like to stream to your smartphone, rent (or hit play if you're a Prime subscriber) and you'll be prompted to download the new Instant Video app. Essentially side-loading it on your device from inside Amazon's own application. It's a bit sneaky, and sort of an odd way of doing things. If you don't have the phone set to allow apps to be installed from unknown sources, for security reasons, it will prompt you to enable this in settings, then hit back and complete the install.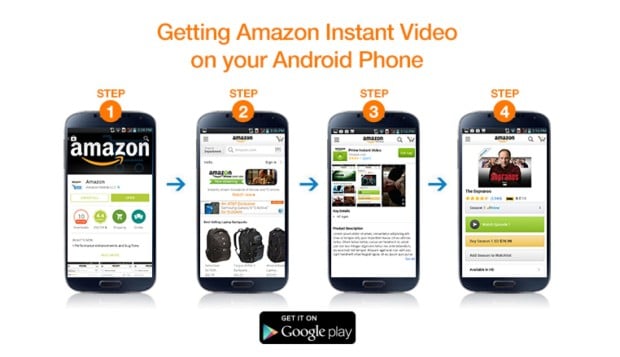 From here you'll now install the official Instant Video app, and your selection will start streaming in HD right to your Android smartphone. This also puts a dedicated "Instant Video" application in your app tray, which you can then proceed to launch and enjoy content whenever you'd like.
The new Amazon Prime Instant Video app is also available from the Amazon App Store, if you have that installed and would like to do it that way instead.
It isn't the easiest process for average owners, which is odd considering Amazon is usually all about making things simple for owners to use and enjoy. Thankfully the guys at AndroidPolice have it available for download, so if you'd rather not go through all the hassle simple download the Amazon Instant Video app right here.