Amazon Instant Video for iPhone and iPod touch Arrives
Amazon Instant Video for iPhone and the iPod touch is now available, joining the iPad as a place to watch Amazon Instant videos.
Today Amazon updated its iOS Instant Video app to include support for smaller iOS devices. Previously the app was only available for the iPad. Now iPhone and iPod touch users can watch Amazon's entire video collection on their device of choice.
The Amazon Instant Video app lets Amazon Prime subscribers view the entire Prime Instant Video collection quickly and easily. Users can search for available titles, or choose what they want to watch from the Watchlist option.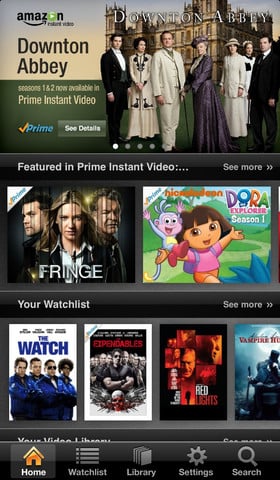 Amazon doesn't let users buy or rent movies from within the app, however. To buy or rent movies from Amazon users need to open Mobile Safari and go to Amazon.com. After buying or renting the movies or TV shows from Amazon users can view them within the Instant Video app.
In the app users can only stream movies and TV shows they get for free from Prime Instant Video. Users can download videos they bought or rented from Amazon, however, in addition to streaming them.
The Amazon Instant video app is a competitor to both Netflix and iTunes because it can mirror the functionality of both. The app doesn't support AirPlay, but many set-top boxes aside from the Apple TV have Amazon Instant Video as a video option. The service is available on every video games console, and several smart TVs.
The iPhone and iPod touch are the first two small mobile devices that Amazon supports with its Instant Video service. The service is available on every Kindle Fire and the iPad as well, but it isn't available on any Android smartphones at the moment. There is an argument that tablets are better for viewing movies and TV shows, but some users like to have the option for mobile viewing on the iPhone.

As an Amazon Associate I earn from qualifying purchases.