Amazon Kindle 4 Review: Nice Update at a Great Price
Amazon's new $79 Kindle 4 brings reading eBooks to a lot more people thanks to a nice smaller design and a great price. The upgrade cuts a few features like audio and a physical keyboard in order to hit that price and slim it down. Most people won't miss them. The smaller, lightweight design makes this the best e-ink reader on the market despite a couple of minor weaknesses.
I chose the lower-priced "With Special Offers" version because the discount for putting ads on the Kindle like the one below don't bother me. You can remove them for a fee, but I doubt many will bother.
Video Review
Features
Here are some of the key specs with the new Kindle:
6″ e-ink display with 800×600 resolution at 167 ppi
Wi-Fi only – no 3G
Free AT&T hotspot access
2GB of internal memory which holds about 1,400 books
Long one month battery life with Wi-Fi off
The Kindle battery lasts forever. After a week of heavy use it shows 75% left. Turn Wi-Fi off and Amazon promises a month of use. Amazon claims a 3 hour charge time, but it took a little less my first time.
The new Kindle left off a couple of key features previous versions had – a physical keyboard and audio capability. The keyboard I used a little for adding "margin notes", but my wife and sons never used it. The second feature none of us miss. I have a smartphone for listening to books and music, and I never liked the built-in text to speech voices.
Instead of a keyboard you get the following buttons:
Back – goes back to your book list, settings pages or browsing history
Keyboard – brings up the onscreen keyboard
5 Way Controller & selection button – navigation and selection
Menu – brings up on-screen menus
Home – takes you to home screen
Two buttons grace each side with back on top and next on bottom. The older Kindles had larger buttons. When I quit trying to pinch them and starting pressing downward from the front of the device, they worked perfectly. The change made it a bit awkward at first.
The onscreen keyboard works fine if you don't need to add a lot of notes to what you're reading, or use your Kindle to surf the web much.
The included "experimental" browser gives you web access but don't plan to use it much because you'll get frustrated quickly. The zoom box lets you enlarge the part of the page inside the box (see below).
The Kindle comes with a micro USB 2.0 cable but no AC adapter anymore. It works with the old one and you can buy one fo $9.99 from Amazon. I'd gladly pay a little more up front to have one included in the box. Otherwise you will have to plug into your own USB adapter or a computer to charge it.
Reading on the e-ink screen feels better after long sessions than reading on my iPad. Not having the distraction of other apps helps too.
You can get simple little apps like the free word game Thread Words or a dots clone called Dots and Boxes. Kindle apps can help waste a little time, but don't compare to tablet apps.
For those who like to listen to audio books on their older Kindle or who like to listen to the text-to-speech function, which reads the book to you, don't upgrade. Amazon removed the audio capability of the Kindle, as we said. I never used this and didn't mind. I'd rather have a cheaper Kindle than audio features.
The Kindle software lets you add things like bookmarks, digital margin notes, and highlighting. All three will sync with other Kindles and you can back them up if you connect to a PC. Unfortunately they changed the way you add markups, requiring more button clicks than before. To add a highlight it takes five clicks to the previous three. If you don't use the feature, you will never notice the change.
Recommendations
I love this new Kindle. My family shares our 2nd generation Kindle, often fighting over it. Because of the lower price, I'm going to be giving each member of the family their own. For only $79.99 you can't go wrong.
If Amazon hadn't dropped the price, then I would likely be less positive about it. At the price, readers will enjoy it.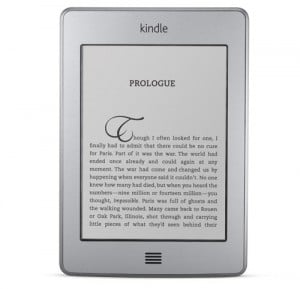 Should you pick this Kindle over the newer Kindle Touch or Fire? The key differences between this Kindle and the Touch (pictured right) includes the following:
No buttons on Touch
Touch screen interface
3G version available
Audio support
Longer lasting battery
The biggest reason to hold out for the Kindle Touch has to be the 3G access. You can buy and download books even if you are not within range of Wi-Fi. The touch screen will be nice and longer battery life a plus, but do you really need them? The other key reason is the audio capability. The $79,99 model reviewed can't play audio or read your books. The Touch will have this feature.
Pros
Lighter and smaller size is more portable
Great screen is easy to read
Amazing price
Can remove ads if you find them annoying
Excellent battery life
Cons
New markup feature takes more button presses
Onscreen keyboard slows down note taking
No AC adapter included

As an Amazon Associate I earn from qualifying purchases.