Amazon Kindle Fire HD Gets IMDB Based X-Ray Info with TV Shows
When Amazon introduced the Kindle Fire HD they also announced a new feature called X-Ray, which grabs information about movies watched on a Kindle Fire HD from IMDB. Amazon purchased IMDB, a website that shows a vast amount of information about movies and TV shows: cast and crew names, past movies they've worked on and more. They put it to good use by adding this information to Kindle Fire HD movies via X-Ray. At launch it only worked with movies, but it now supports TV shows as well.
Using the X-Ray features users can answer those debates with friends like, "Didn't that guy star with Kevin Bacon in JFK?" or "What's the name of that hunky guy playing the butler?" The user taps on the actors on-screen at that moment, and they show up in a pop-up box.
The X-Ray service not only works with movies and now TV-shows. Amazon Kindle Fire HD users can learn about books and college textbooks too. Tap on the screen and get pertinent details about the content on the page. Owners of the Wii U can also enjoy the X-Ray feature.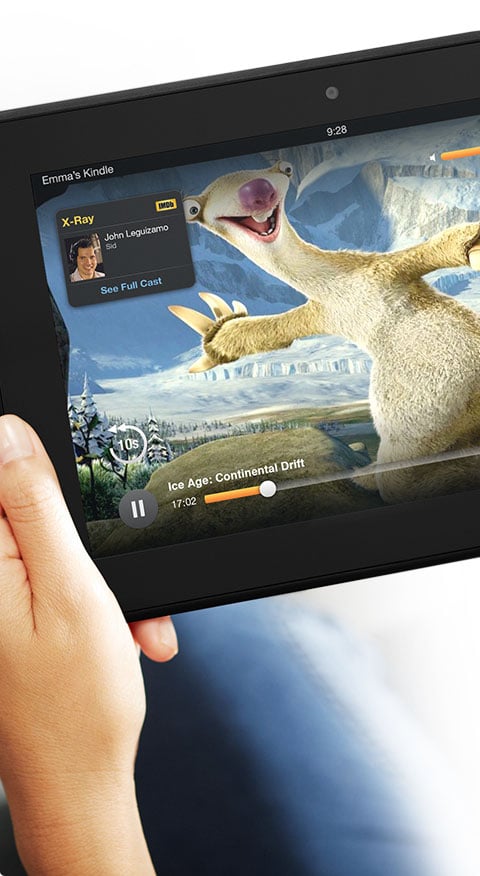 X-Ray includes a limited list of movies and TV shows that include the information from IMDB on a Kindle Fire HD. IMDB lists some of those videos that include the details at IMDB.com. Shows like Glee, Grey's Anatomy, Game of Thrones and The Walking Dead all include it. Amazon promises to expand the list of X-Ray enabled shows and movies, according to a press release at Amazon BusinessWire cited by The Verge.
Only Amazon Prime users can take advantage of the X-Ray feature on their Kindles. The Amazon Prime service costs $79.99 per year and includes other perks like free 2nd day shipping and $3.99 next day shipping on many products sold via Amazon. Readers can borrow a limited selection of Kindle books for up to a month without paying for the Kindle book. They can also stream movies and TV shows, so long as they're included in the Amazon Prime Instant Video service, a streaming tool much like Netflix.
The Amazon Instant Video service selection keeps getting better all the time. At first it only included obscure movies and very old TV shows, but lately Amazon inked deals with companies offering a more popular selection of films and shows.

As an Amazon Associate I earn from qualifying purchases.