Amazon Drops Kindle Fire Prices by $50 for Cyber Monday Promo
Amazon is offering the Kindle Fire HDX for just $179 after a $50 discount as part of its Cyber Monday promotion. The $50 discount also applies to the Kindle Fire HD, while the Kindle Fire HD 8.9″ is discounted by $40. The Kindle HDX 8.9″, which is being widely advertised on TV and remains priced at $379.
The base Kindle Fire HDX comes with 16GB of storage, Amazon's Special Offers and Wi-Fi connectivity only. The 32GB version is an extra $40 and the 64GB version is $80 more. There's a $15 up-charge to get rid of Amazon's Special Offers 'feature', which displays ads and other sponsored content on the Kindle Fire HDX's lock screen.
The $50 Cyber Monday deal is only good on Wi-Fi Kindle Fire models. Opting for the Kindle Fire HDX with Verizon or AT&T LTE bumps the starting price up to $329.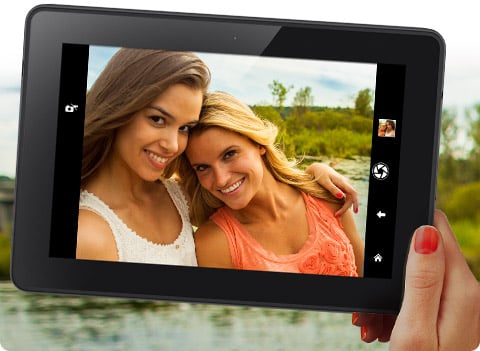 Those looking for a real bargain should consider the 16GB Kindle Fire HD, which is on sale for just $119 on Cyber Monday. The 8GB Kindle Fire HD is not on sale and is priced $20 higher than the 16GB model at $139 during this promotion.
Those on a budget looking for a larger tablet should take a look at the Kindle Fire HD 8.9″. No, it's not the latest and greatest tech, but the 16GB model is an excellent value at just $229, which is $130 cheaper than the new Kindle Fire HDX 8.9″
Amazon's Kindle HDX tablets are Android tablets that are designed primarily for content consumption.Unlike most Android tablets, including the Nexus 7, Amazon's HDX tablets run on an Amazon-customized version of Android called Fire OS. Kindle HDX users must purchase apps, games and media through Amazon's services rather than Google's Play stores. Amazon Prime members can access 41,000 videos and 350,000 Kindle book titles for free on any of Amazon's Android tablets.
https://youtu.be/QhTl00uili4
Amazon is marketing the Kindle Fire HDX 8.9″ as an affordable iPad Air alternative this holiday season. Amazon released the above ad today and ran it during several football games. As we detailed yesterday, there aren't any aggressive Cyber Monday iPad deals this year. The best pricing we've seen on iPad Air models this year are $20 discounts from several retailers. There is one way however to get $50 in Best Buy savings codes with the purchase of an iPad Air.
Read: iPad Air Review
While the discounts make Amazon's already affordable Kindles even more compelling, those who've purchased a lot of apps, games and content on Google Play, Apple's App Store or iTunes may be better off with tablets other than Amazon's. The Google Nexus 7 and the iPad mini are both relatively affordable.
Amazon is calling this $40 to $50 Kindle sale an "early Cyber Monday Deal." The company has not stated how long this promotion will last so we suggest taking advantage of it soon as it's not guaranteed to be available through the end of the day.