Amazon Kindle with 'Special Offers' Only $114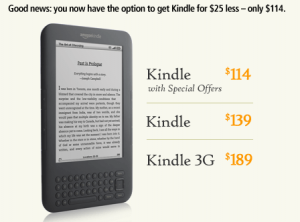 Amazon is now selling the cheapest version of its wildly popular Kindle for just $114. The Kindle with Special Offers is nearly identical to the WiFi-only Kindle, which sells for $139. The $25 price difference is being covered by sponsors, who will serve ads on the device in the form of sponsored screensavers and small ads on the Kindle's home screen.
Special offers, such as a $20 Amazon Gift Card for $10 and $1 albums in the Amazon MP3 Store will be served up to Kindle buyers opting to save $25 on the purchase price of their eReaders.
Amazon will allow Kindle with Special Offers users to set preferences for the sponsored screensavers to reduce the annoyance factor and serve up scenes that fit users' interests. Buick, Chase, Visa and Olay are Amazon's launch partners responsible for subsidizing the Kindle with Special Offers.
The 6″ Kindle Wi-Fi is still available for $139 for those not willig to deal with ads and special offers. Those who want to be able to download books on the go can of course still opt for the Kindle 3G + WiFi ($189) or the Kindle DX ($379).
While many mobile device manufacturers offer subsidies on hardware in exchange for signing up for service contracts, this is the firs time we've seen an ad-driven subsidy. If this Amazon venture is successful, the retail price of the entry-level Kindle could be driven down significantly. Offers, such as the discounts Amazon describes in the letter to visitors on its homepage, are much more valuable than display advertising since there's direct commerce involved. We wouldn't be surprised to see free Kindles in the near future .
Here's the begining of Amazon's letter to customers introducing the Kindle with Special Offers. You can read the rest at Amazon.com.
Here's the product page for the Kindle with Special Offers.

As an Amazon Associate I earn from qualifying purchases.