Amazon Launches Coins Virtual Currency For Buying Kindle Fire Apps
Today Amazon launched Amazon Coins, its virtual currency for Kindle Fire users, and to celebrate, it's giving $5 worth of coins to users for free.
Amazon Coins is a new virtual currency that Amazon hopes users will use in place of other payments methods for all the apps and games in the Amazon Appstore. Users can use Coins to pay for their apps as well as virtual goods inside those apps. First, however, users have to buy Coins.
The math to convert Amazon Coins to real dollars is easy: $1 is worth 100 Amazon Coins, or each Amazon Coin is worth one penny. Users can't just buy 100 Coins however. Amazon only sells Amazon Coins in bundles of 500, 1000, 2500, 5000 and 10,000.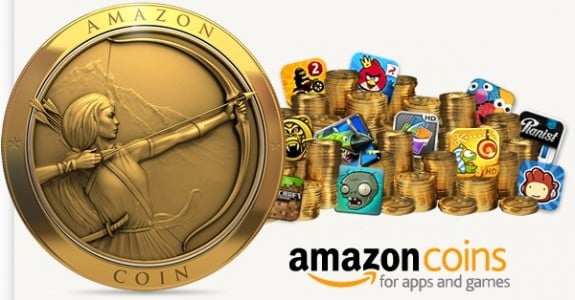 Users get a discount on those bundles, which somewhat complicates the conversion rate. The 500 bundle, which should cost $5 by Amazon's conversion, actually costs $4.80, which isn't a big savings. The 10,000 bundle should cost $100, but Amazon knocks off 10 percent bringing the price down to $90.
On the surface, Amazon Coins are easier to figure out than say Microsoft Points on the Xbox 360 which cost $1 for every 80 points. The bundles (which Microsoft also uses) mean users will likely have leftover coins they can't use after a while.
Thankfully, Amazon still lets users pay for apps and games with real money so they don't get stuck with those worthless leftover coins.
Amazon Coins may make it easier for parents who give their kids a Kindle Fire. The parents can give them an allowance of Coins to use on games and apps. It can prevent kids from racking up huge bills thanks to in-app purchases.
Kindle Fire users still have to use a credit card linked to their account to buy other media on their tablet of choice. Kindle books, songs, movies and TV shows are all exempt from Amazon Coins at the moment.

This article may contain affiliate links. Click here for more details.