Amazon Makes Money Off Of Kindle Fire Owners, Not Device Sales (Duh)
A few months ago iSuppli did a teardown of the Kindle Fire and surmised that the tablet costs about $202 to make, which is $3 more than the company charges consumers. Ever since then everyone has dutifully repeated the meme that Amazon is selling the Fire at a loss.
Except: they're not.
First, there's more to the cost of a device than just the price of parts. You have to pay people to assemble the parts, the packaging as to be designed and created, you have to ship the thing around, and you have to pay marketing and PR people to promote it.
That people don't understand this is the cause of much eye-rolling here in my house whenever the latest iSupply teardown reveals that — horrors! — someone is selling a product for more than the price of its parts.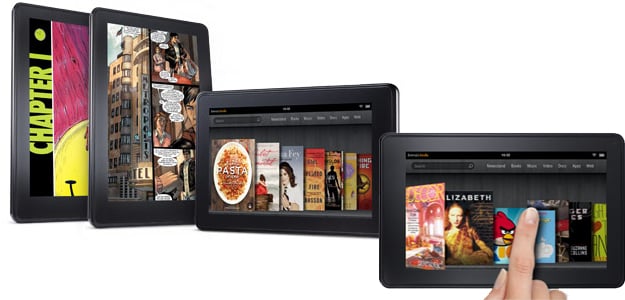 Beyond that, Amazon can afford to not make any profit off of the Fire itself because customers who buy it will buy more things. Anyone who purchased or was given the tablet has already made an unofficial commitment to the Amazon ecosystem. You're going to buy books, you're going to rent or buy VOD (or join Prime), you're going to buy apps, you're going to buy MP3s. You just are. It's why you wanted a Kindle Fire. It's why Amazon made the Kindle Fire.
How much are each of these customers worth? At least $100, according to data from the RBC investment banking firm. Right now it looks like most of that extra revenue is coming from eBook and app sales. I suspect that video will account for a bigger chunk and even raise the average once Amazon builds up their Prime streaming catalog and gets more day-after TV episodes. The Netflix ship is listing and Amazon is poised to become the iceberg that takes it down.
I'm surprised that this is news to anyone else. Amazon's strategy here was clear to me from the beginning.
Remember how the first Kindle was super expensive at $399? The second generation wasn't much better at first, selling for $359. Remember when people cried How Dare They! when iSupply revealed that the device's parts cost much less than retail price. Shocking, I know.
Amazon continued along, eventually lowering the price of the second gen and third gen and, with the latest iterations, finally hitting the sub-$100 price point everyone had been hoping for. But the parts inside didn't get so much less expensive over the years. Some have come down in price — like eInk displays — but not that much. It's just that now Amazon has an ecosystem and can afford to give you the delivery system for less because they know you'll keep buying stuff over time.
The more Kindle customers they gained the less Kindle devices were to purchase. Funny how that works.
What's even better is that Amazon is one of the few companies where this strategy will work. For example, Samsung is a major global manufacturer, but they didn't price the Galaxy Tab Plus 7.0 at $199 in the hopes that customers would buy apps from their store or music and video from their Media Hub. They just don't have a customer base like that. Samsung is a device maker first. Amazon isn't.
Can this strategy work for other manufacturers? Is it even worth emulating?
The bottom line is: Amazon is not losing money on the Kindle Fire. At all. If anyone tries to tell you this, laugh in their faces and keep moving.

As an Amazon Associate I earn from qualifying purchases.