Amazon Offering 250GB Xbox 360 Holiday Bundle for $239
The Xbox One is quickly approaching for release next month, which means the Xbox 360 is seeing a ton of firesales. Case in point: Amazon has discounted the 250GB Xbox 360 holiday bundle down to $239. This gets you the 250GB console, a Kinect sensor, and three games. Normally, the bundle costs $399, so you're seeing a 40% discount on the bundle.
The games included are Kinect Adventures, Kinect Sports: Season Two and Forza Horizon. Plus, the deal is for the redesigned Xbox 360, which more closely resembles the Xbox One's boxy design. In total, the Xbox 360 has seen three different designs. There was the original curved model, and then came the more jagged-edged Xbox 360 S console, and then finally this new design that's more squared off.
If you're looking for a cheap gaming gift for a niece or nephew, or just want a "new" console at an insanely cheap price, now is the time to buy one. Xbox 360 consoles will be at an all-time low during the holiday season, as far as price goes. Plus, if you don't need an entire bundle of gear, you can get a basic setup for around $100 used, if all you need is a console and a controller.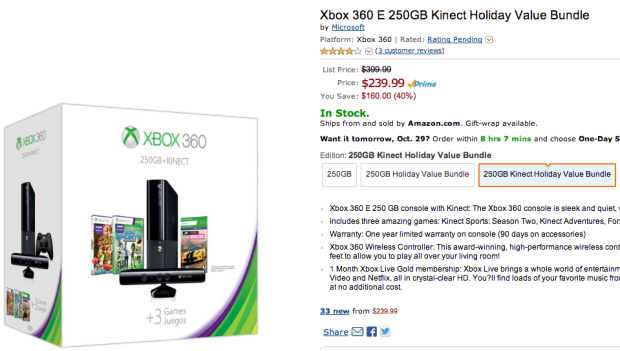 If you're worried about picking up an Xbox 360 this late in the game with the Xbox One coming out, Microsoft has made it clear that it plans to support the Xbox 360 for a couple more years, with new games planned for release on the older console. In short, the Xbox 360 still has a lot of life left.
Furthermore, buying games and accessories for your Xbox 360 collection will be super cheap. You'll be able to pick up great Xbox 360 titles for less than $20, and extra controllers can be had for as low as $15 on eBay, if you're patient.
However, if you're waiting it out for the Xbox One to release next month, we don't blame you. The graphics are impressive and the entertainment features that come with the console will make it a great living room device for the whole family. You'll definitely be ponying up more cash for it, but hardcore gamers won't find that to be a problem for the most part.

This article may contain affiliate links. Click here for more details.