Amazon Offering $40 Credit with Kindle Fire Purchase (Update)
Amazon is holding a limited-time offer on Kindle Fire tablets until Wednesday night. If you purchase a Kindle Fire tablet before Wednesday night, you'll $40 in "digital content credit" that's good for buying apps, games, movies, TV shows, music, Kindle ebooks, etc. To take advantage of the deal, all you have to do is enter KINDLE40 at checkout.
UPDATE: According to Amazon Customer Service, this deal was sent as an invite only to certain Amazon customers and will only work when these chosen customers sign into their Amazon accounts. The deal won't work for everyone, unfortunately (Thanks, Ryan).
In order to get the deal, you have to buy your Kindle Fire tablet using the code above by 11:59 pm PT on November 13, and you must redeem your digital content credit by 11:59 pm PT on March 31, 2014. Usually, store credit doesn't expire, but it seems this is where the biggest caveat is with this particular deal. Obviously, March of next year is a ways off, and most users could go through $40 worth of credit in a heart beat, but if you're the kind of user who likes to save your credit until something good comes along, it'll be important to keep that expiration date in mind.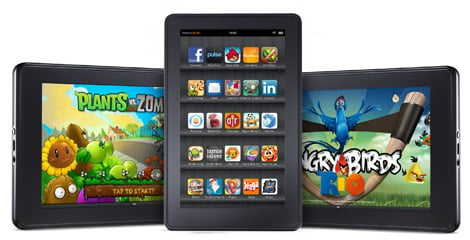 Essentially, with this deal, it means that you can get the entry-level Kindle Fire HD 7-inch tablet for a mere $100, with the $40 you save simply being earmarked for Amazon's digital content catalog. The Kindle Fire HDX 7-inch slate would cost only $190, while the 8.9-inch model would start at $340, technically.
Of course, you can't beat the price of $100 for a 7-inch tablet, and it's especially a good buy if you're deep into Amazon's ecosystem, which the Kindle Fire tablets essentially live off of, and you really have to be a die-hard Amazon user if you want to get your money's worth. This is why the Nexus 7 is still the best Android tablet around, but $100 for the Kindle Fire HD is unbeatable; get it while the deal lasts.
Sadly, the $40 credit can't be used to buy merchandise from Amazon's marketplace, and it only applies to digital content, but if you're buying your first Kindle Fire tablet, an extra $40 to spend on digital content will help get you started filling up your tablet with apps, movies, music, ebooks and more.