Amazon Offering Free Overnight Shipping on Select Products
It's not too late to shop for last-minute Christmas gifts on Amazon. The company is offering free overnight shipping on a select number of products, meaning that you can order something as late as midnight tonight (Eastern Time) and receive it tomorrow on Christmas Eve. The best part is that a Prime membership isn't required.
There are thousands of products that you can choose from that come with free overnight shipping, including a Pebble smartwatch, Beats headphones and even physical gift cards if you're not sure what to get that special someone in your life. Order before midnight ET tonight, and you'll get it in the mail with more than enough time to wrap it up and put it under the tree.
Amazon's Christmas shipping deadlines began last week on December 17. Obviously, that date is long and gone, but there's still time to order on Amazon and receive it in time for Christmas, just as long as whatever you order qualifies for the free overnight shipping.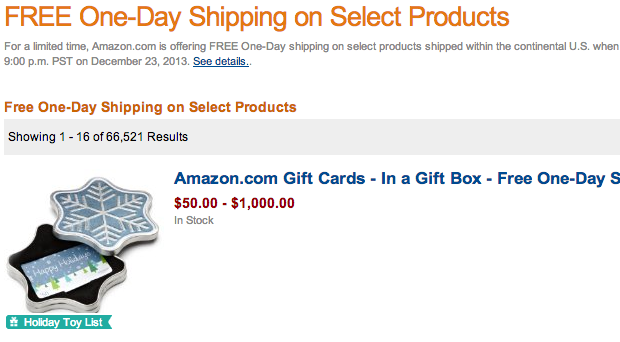 If there's something that you want to order, but it's not qualified for the free overnight shipping, hopefully you have Amazon Prime and can ship it overnight for just $3.99. However, if you don't have Amazon Prime, but know someone who does, try and see if you can get them to share their free two-day shipping with you.
Yesterday was the last day to take advantage of free two-day shipping for Prime members. We're getting towards the end of the line here, and tonight is that absolute last minute that you can order something and have it delivered to your front door before Christmas morning.
Of course, it's always possible that your package could arrive after Christmas if you wait until the last minute, which is why we recommend ordering a gift as early as possible to make sure that you actually get it before Christmas. I've already received late packages using Amazon Prime, so I can't imagine what these next couple of days before Christmas will be like.
If you live in bigger cities around the US, you can take advantage of Amazon's local delivery service on Christmas Eve, which will land you same-day shipping on a variety of goods and items. Amazon's Local Express Delivery is available in Baltimore, Boston, Chicago, Indianapolis, New York City, Philadelphia, Phoenix, Seattle, San Bernardino area in California, Washington DC, and parts of New Jersey.

As an Amazon Associate I earn from qualifying purchases.