Amazon Opens Up Kindle for the Web No App Required
More interesting Amazon news this morning. Amazon is announcing Kindle for the Web, which will allow you to read a sample chapter of a book in your browser, no App of any kind required. In addition to allowing users to read the sample chapter, you can then go and purchase the book. But then you knew that was the point.  Users can also share these book samples via email or social networks, and can even embed a sample chapter in a website and earn referral fees from sales.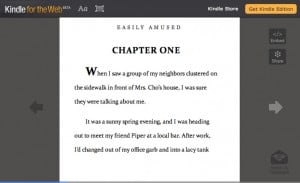 As an Amazon Associate I earn from qualifying purchases.