Amazon Prime Music Arrives to Take on Spotify
Amazon has launched its own music streaming service that looks to take on the likes of Spotify, Rdio and even the new Beats Music, which is now owned by Apple.
Amazon Prime Music is baked right into the company's Prime memberships, so if you already have a membership to Amazon Prime, you get access to Prime Music for free. Unfortunately, you have to be a Prime member anyway in order to use Prime Music, so you can't just pay a small monthly fee just to use Prime Music, but you can try it for free for 30 days.
One of the biggest facets that sets Prime Music apart from the competition is its small library of music selections. Right now, Prime Music boasts around one million songs, and this is compared to Spotify's whopping 20 million songs — four million of which have never even been touched by music listeners.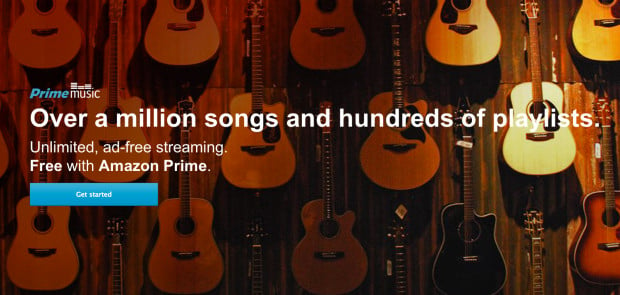 However, that right there is the reason why Prime Music isn't focusing on obtaining the largest catalog around. Instead, Amazon is focusing on just having a good selection of music that you might just want to casually listen to on a Saturday afternoon.
Amazon locked down two out of the three major music labels, so you won't get any music from artists who are signed with Universal, which includes big names like Jay-Z and Kanye West, but you'll get access to music from the likes of Beyonce, Shakira and Alicia Keys. Plus, don't expect new releases to be available on Prime Music right away, but the company says they'll be adding more selections within the next few months or so.
One thing you should be aware of is that Amazon is rebranding all of its music-related services, and this includes the company's MP3 Store and Cloud Player, all of which will now be under the Prime Music name. So any Amazon music apps on Android and iOS are now replaced by a single Prime Music app. The iOS app appears to be live, while we have yet to see the Android version appear, but it should be soon enough.
As far as Amazon tablets, the Kindle Fire lineup will simply have Prime Music baked in, and you'll simply just need to apply an update to see the changes. One thing we're not seeing, though, is Prime Music availability on Amazon's Fire TV. We're guessing the company will add that in at a later time, but it seems rather odd that Android and iOS will be getting the privileges, but not Amazon's own hardware.
While Prime Music's selection is rather limited right now, the service at least makes up for it by working with your current local library of music. Amazon will be able to make recommendations based on the music you already have stored in your Cloud Player, and it will also help you add the rest of an album from a single song that you might have stored in Cloud Player as well.
Plus, if you're already familiar with Amazon's various services like Prime Instant Video, then you'll feel right at home with Prime Music, since it's the same look and feel as the other apps and services offered by Amazon.
For those users who need all the music they get right at their fingertips, Spotify will most likely be the go-to service for them, but Amazon Prime Music definitely fills a void. You simply can't beat the deal you get with Amazon Prime memberships, and the added music features just sweeten the pot. The catalog might not be as full as Spotify's, but if you're just wanting to casually listen to music, you can't go wrong with Prime Music.

As an Amazon Associate I earn from qualifying purchases.