Amazon Releases Fire 3.1 for Kindle Fire
Amazon has released an update to its Kindle Fire operating system, Fire 3.1 for Kindle Fire. Headlines for version 3.1 are integration with Goodreads and Second Screen – the ability to fling content from your Kindle Fire to your TV. The update is available for the Kindle Fire HD, the 7 inch Kindle Fire HDX and the 8.9 inch Kindle Fire HDX. The 3.1 update also brings Enterprise level features including the ability to connect to secure enterprise Wi-Fi networks and access corporate apps, a native VPN client among other features, giving the Kindle Fire a chance to join the Bring Your Own Device (BYOD) club.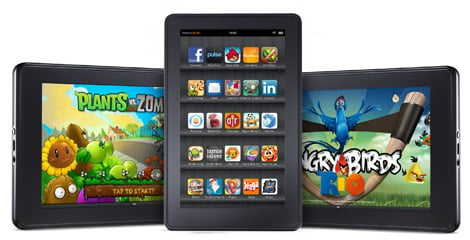 Goodreads users can now use a Kindle Fire to discover new books and discuss them without leaving the book you are reading to open a Goodreads App. Goodreaders can share quotes, add books to their "want-to-read shelf," and rate and review books. Print and ebooks purchased from Amazon can be imported into your Goodreads account.
Using a Tablet these days means interacting with your TV for many. Second Screen will allow users to fling content from their Kindle Fire to their TV screen, using the Fire HDX as a control screen or to use the X-Ray feature. Users can also do other chores like email while watching content shared from their Fire to their TV. Second Screen is currently available for Playstation 3 and will be available for the Playstation 4 next year. It is also available currently for Samsung TVs.
Other features in the 3.1 update include:
Cloud Collections which gives you the ability to organize your books, periodicals and Apps in customized collections. Via Whispersync your organizational structure is synced across devices.
Voice dictation converts speech to text in all languages online with offline support for US English.
An archiving feature called 1-Tap archive that removes and archives items that haven't been recently used to free up space on your device.
Wireless printing for photos, PDFs, emails, contacts, calendar, and documents.
Improvements to accessibility features.
Battery life improvements and bug fixes.
The free OTA update will be delivered to your device over the next few weeks, or users can visit this site to manually install the update as of today. You can also check to see if your device gets the update.
The 3.1 update sounds like a major update, so we'd appreciate hearing from Kindle Fire owners how they feel about the new features and how well they are working. Let us know in comments.

As an Amazon Associate I earn from qualifying purchases.