Amazon Reportedly Buys Siri Competitor Evi
A report from TechCrunch claims that Amazon recently purchased Evi, a Siri-like service that works on both Android and iOS.
Evi uses Nuance voice recognition technology in combination with the True Knowledge natural language search engine to give iOS and Android users voice search. Like Siri, the app can answer questions and help users find information online through voice search. A video demo for the app shows is providing users with scientific facts, recipes, nearby restaurants and the occasional joke.
The service knows about a billion "facts" and can learn from it's users. The more people use the service, the smarter it gets and the better it's answers become. That requires a big audience, however, which Amazon could provide.
It appears that Amazon bought Evi sometime in the recent past, though neither company will admit to an acquisition. There are some hints that something is up, however. TechCrunch notes that Evi replaced all of its directors with an Amazon UK legal representative. Evi also now uses the same corporate secretary as Amazon UK.
All of Evi's loans were also recently paid off, which could hint at an acquisition.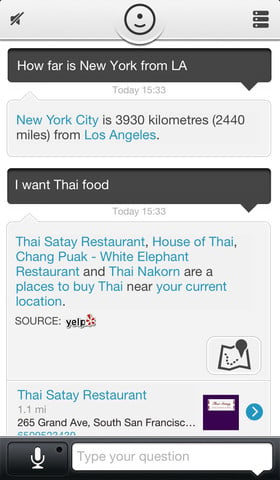 If Amazon did acquire Evi, it could use the company's service along with voice recognition company Ivona it acquired earlier in the year in the rumored Kindle phone. Amazon could use Evi as voice search in its rumored phone as well as it's tablets, giving the company's devices Siri and Google Now competitors.
Recent rumors said Amazon will release a 4.7-inch 720p smartphone sometime this year. Like its Kindle Fire tablets the rumored Kindle smartphone will likely use a forked version of Android that can only access Amazon's Appstore instead of the Google Play Store.
Using a forked version of Android would mean the phone can't use the Google Now service, which is likely why Amazon wants to buy its own voice search solution.