Amazon Smartphone Release to Hit AT&T First
Amazon is expected to announce its highly-anticipated 3D smartphone tomorrow, and while we don't know much about the rumored device so far, it's said that it will arrive on AT&T as an exclusive.
The Wall Street Journal is reporting that Amazon's upcoming smartphone will arrive on AT&T only, but no word as far as whether or not the device will eventually arrive on other carriers in the future. It wouldn't be surprising if it eventually landed on other carriers, seeing as how the Kindle Fire was an AT&T exclusive at first, but then arrived on other carriers later on.
Further details are unknown, such as if Amazon will sell its new smartphone SIM-free on its website, or if it will merely just be sold at AT&T stores at a subsidized price with a two-year contract.
Amazon's launch of its first smartphone will be the company's entrance into the crowded mobile market, but Bezos and company hope that the device's 3D-tracking technology will set the phone apart from the crowd. It's said that the device will include four head-tracking front-facing cameras that will work together to produce 3D images on the display without the need for special 3D glasses.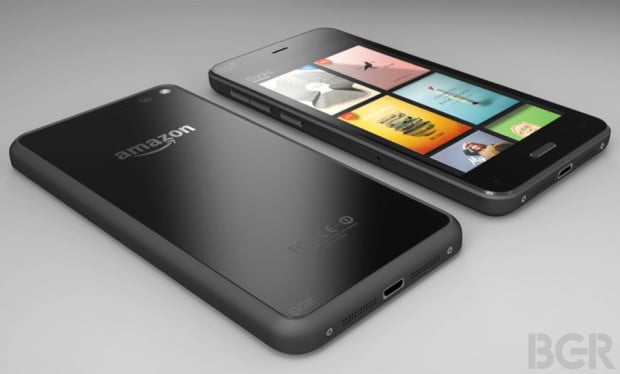 The only clue we have from Amazon as far as what the company will announce tomorrow in Seattle is a short teaser video that shows people off the street playing around with what we can assume is Amazon's rumored smartphone. The video shows these people moving around their head while looking at the screen, which suggests that the device will indeed come with some kind of head-tracking technology that can display a 3D image.
Early last month, reports from Boy Genuis Report and the Wall Street Journal indicated that Amazon had plans to introduce a smartphone with 3D display technology. BGR's report didn't only just include a few small details about the upcoming smartphone, but also included renders of what the Amazon smartphone might look like, with a design that fits right into the company's current lineup of Kindle tablets.
As far as what kind of specs this Amazon smartphone will bolster, it's rumored that it will include a 4.7-inch display and rock a Qualcomm Snapdragon processor with 2GB of RAM. This is pretty typical of any flagship Android device on the market, so users shouldn't expect a revolution when it comes to the performance of Amazon's smartphone.
There's also no word on what kind of the software that the device will be running, but we're guessing it will come with the same modified version of Android that the Amazon's Kindle tablet lineup are sporting. However, we're guessing the user interface might get tweaked just a little bit in order to better fit a smaller screen.
Pricing is one thing that we're really curious about. We wouldn't be surprised if the subsidized cost of this Amazon smartphone was competitive with the rest of the mobile market, but we're curious whether or not the specialized 3D-tracking technology will warrant a higher price tag for consumers. Then again, Amazon has always had the cheapest products in town, usually taking a financial loss on hardware sales and making up the difference in content sales. We're curious if that business model will apply the company's smartphone as well.
In any case, Amazon will be officially announcing the device tomorrow at its headquarters in Seattle, so be sure to keep that F5 key ready on GottaBeMobile.com for the latest happenings.