Amazon to Add Video and Audio to iDevice Apps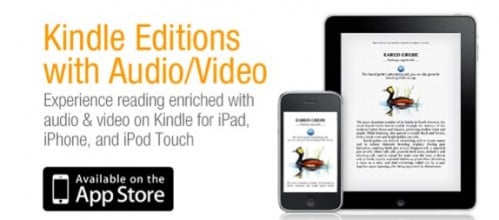 Amazon is adding audio and video to its Kindle App for the iPhone, iPod Touch, and iPad. As of this writing the new version doesn't appear to be in the App Store, but there are several book titles that take advantage of the new features available for purchase. Some of these include Rose's Heavenly Cakes with video on how to prepare your cake, Bird Songs, with yep audio clips of birds.
At the moment these new features are only available for the iDevice platforms, as Amazon continues to square off with Apple in the eBook wars. This move opens the door for some books to become multimedia experiences, which I'm thinking in most cases, makes that a chore for the publisher and probably not the author.
In the early press about this, quite a few folks are mentioning that Amazon isn't including this feature on its current Kindle hardware. I'm guessing that will come with the next edition of the hardware. Otherwise, I'll stick to my early comments about the Kindle App on the iPad, that the Kindle's worst enemy is Amazon it self.

As an Amazon Associate I earn from qualifying purchases.