Amazon to Debut 4 New Kindle Fire Tablets This Fall, 1 Will Have 4G Connectivity
Amazon is speculated to update its Kindle Fire tablet lineup with four new models covering various price points and at least one of those models will have 4G connectivity built in, making it easy for customers to access the Internet and download content. The devices will bear the 'Kindle Fire 2' moniker according to NPD DisplaySearch analyst Richard Shim, who maintains trusted sources at supply chains for his information.
Shim's comments were published on CNET. Here are the breakdown of the potential Kindle Fire 2 models with their display sizes and resolutions:
7-inch Kindle Fire 2:1,024×600 display, no camera; August production.
7-inch Kindle Fire 2: 1,280×800 display with camera; August production.
7-inch Kindle Fire 2: 1,280×800 display with camera and 4G; September production.
8.9-inch Kindle Fire 2: With 1,920×1,200 display; Q4 production.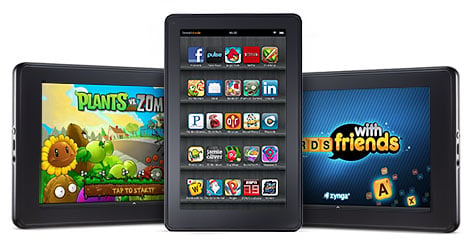 The first model, with a 1024 X 600 resolution would be similar to today's model. It's unclear if Amazon intends to update the internal processor on the Kindle Fire 2 or use the same CPU from last year's model on the Kindle Fire 2 base. The 1280 X 800 resolution on the higher-end Kindle Fire 2 with 7-inch displays would be a bump from last year's model. Those devices will feature a 720p HD display and would have screen sizes and resolutions similar to that on the Google-branded Nexus 7 tablet. One of the high-end Kindle Fire 2 7-inch model will come with 4G connectivity, though pricing and mobile broadband data plan pricing packages have not been announced. The 4G model will enter production starting in September.
Amazon's Kindle Fire tablet relies on Google's Android OS platform, but comes heavily skinned to not resemble the Android OS that we see on tablets from Samsung, LG, HTC, Motorola, and others. Additionally, instead of the Google Play Store, Amazon has its own digital storefronts loaded on the Kindle Fire for users to purchase digital content.
In the past, Kindle e-ink e-readers with built-in mobile broadband 3G connectivity came inclusive with a data plan–users did not need to pay for separate data plans with those models and instead paid for a slightly higher device pricing. Given that e-books did not consume a lot of data, that made sense, but with a full Android tablet having access to the Internet, Amazon may have to charge for Internet access on a 4G tablet.
The last model will come sometime in the fourth quarter and will have an 8.9-inch 1920 X 1200 resolution, which is a high-resolution 1080p HD display.
Other specs are not yet available for these slates at this time and supply chain information are said to be changing and dynamic, meaning that Amazon can change its orders or release plans for the Kindle Fire 2 slates at any time. Pricing information for these tablets are not currently available at this time.
Additionally, Apple is also rumored to enter the 7-inch tablet space with its rumored 7.85-inch iPad Mini.