Amazon to Disrupt the Wireless Industry With Its 4G LTE Service for Kindle Phones?
Internet retailer Amazon and makers of the popular Kindle reading devices and tablets is now said to be privately testing its own LTE wireless service in private, which could in turn lead to Amazon entering the wireless carrier space to compete against big names like AT&T Mobility, Sprint Corp, T-Mobile US, and Verizon Wireless. Amazon had been rumored in the past to be exploring the space as a way to sell more of its Kindle Fire tablets to consumers as well as entering the smartphone space with its own Kindle-branded phone, likely based on Google's Android operating system as well with Android's unique UI on top.
According to sources to Bloomberg, the Kindle-maker tested a network using spectrum held by satellite communications company Globalstar. Globalstar, like Dish Network, wants to convert its satellite network for use into a terrestrial 4G LTE service. Neither Amazon nor Globalstar is commenting on this news.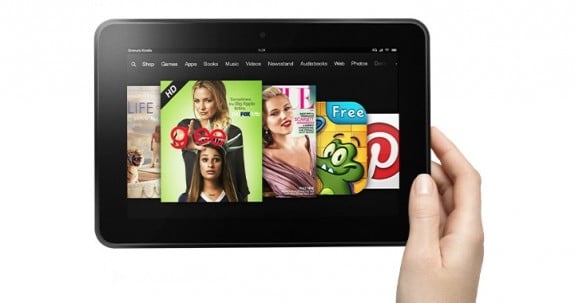 And the publication says that the network was being tested in Cupertino, California at Amazon-owned Lab126 research center. Lab126 is where Amazon designs its Kindle devices.
It's been long believed that Amazon sells its Kindle Fire tablet–a 7-inch tablet that captured the world's hearts at $200 when it launched in 2011–at a loss on hardware sales. Instead, Amazon makes its profits by selling its services and products to Kindle Fire owners, such as e-books, apps, magazines, music, movies and TV shows, and its Prime subscription service. Potentially, an Amazon wireless service could be subsidized by Amazon as a pipeline for customers to spend more on Amazon.com, through ad revenues like on the ad-supported version of the Kindle hardware, and as a means for Amazon to sell digital content to Kindle tablet and phone owners.
Whether Amazon's wireless service, if it ever launches, will be as affordable as its Kindle Fire hardware is anyone's guess. Amazon isn't the only one laying down the pipes for connectivity. Google, which operates its fiber optics Google Fiber service for paid TV and affordable or free Internet, has been making in-roads with its service. Google Fiber though isn't about ubiquitous wireless connectivity in the same form as Amazon's exploration into 4G LTE connectivity.
And given the rise of video on Amazon Prime, a service that offers free two-day shipping from Amazon.com and comes with a free video streaming service that's a Netflix rival, as well as Amazon Video on Demand, hosting its own network may allow Amazon to push more videos to consumers. Right now, viewing videos over 4G LTE isn't an affordable way to stream video given that the two largest providers in the U.S.–AT&T and Verizon–both have tiered and limited data plans after having eliminated unlimited offerings. This means that AT&T and Verizon customers would have to watch videos over WiFi if they were to stream video content effectively and affordably. By entering this space, Amazon could likely offer users more content if Amazon chooses to go with Sprint's and T-Mobile's route with unlimited data plans.
Amazon is rumored to be refreshing its Kindles this fall. It's unclear if we'll hear about a Kindle 4G LTE smartphone at this venue or if the company will be ready to announce plans to enter the wireless space to take on the biggest wireless carriers in the U.S.