Amazon to Expand Voice Search on Fire TV and Create Fire TV App
As outdoor temperatures in the northern hemisphere temperatures begin to rise, Amazon's Fire TV has brought some heat into the living room war for control of your television set. The newly released $99 set top box has been largely well received by reviewers and customers alike, even though some view it as a work in progress with notable features lacking at launch.
While many were impressed by the speed and performance of the Fire TV compared to current alternatives, most were wowed by the performance of Amazon's Voice Search feature with one exception. Voice Search currently is limited to searching for content within Amazon's catalog and Vevo music videos. Today, Amazon announced that it will be expanding Voice Search to include Hulu Plus, Crackle, and SHOWTIME ANYTIME later this summer. Amazon also made mention of a Fire TV App with no specifics as to which mobile platform or platforms that App is being developed for.
According to a statement from Amazon:
"We're excited and energized by the momentum we're seeing with Fire TV," said Dave Limp, Vice President, Amazon Devices. "Customers are telling us they love it, developers are building for it, and we're working hard to expand existing features and build new ones. We're thrilled to have Hulu Plus, Crackle, and SHOWTIME integrating their full selection of movies and TV shows into Fire TV's unified voice search."
Noticeably absent from that list is the popular Netflix streaming video service, which is a prominent player on the Fire TV.
Read: Amazon Fire TV: Review
A Fire TV App?
In the later stages of the press release Amazon also mentions the following:
More Games coming soon. In addition to the over one hundred games available on Fire TV, you will be able to play touch-enabled games with the upcoming Fire TV app for your phone or tablet.
To our knowledge that is the first mention of a Fire TV App. The language does not specify the Kindle Fire line of tablets exclusively nor mention any specifics about the capability of the App. The mention of "a phone or tablet" could also allude to recent leaks and rumors of an Amazon 3D smartphone that is being talked about for this fall. A Fire TV App appearing as a standalone for Amazon's hardware exclusively would not be a surprise. But a Fire TV App for other platforms such as iOS and Android would be of immense interest on a number of fronts. Currently Kindle Fire HDX owners can mirror gaming from their tablets to the Fire TV.
Also of interest in the press release is language that suggests Hulu Plus, Crackle, SHOWTIME ANYTIME are taking the initiative to add their catalogs to the Voice Search feature. While work will surely need to be done by each company, one would assume those launch partners, as well as Netflix, would want their content available via the Voice Search feature.
Voice Search works with the included Bluetooth remote. A user presses the microphone button and holds it down while speaking a request. That request can be the title of a movie or a TV series, the name of a star, a content genre, a film director, etc…. The Fire TV returns results on the screen related to the search that the user can than select with the remote. In our testing the feature worked very well and very fast.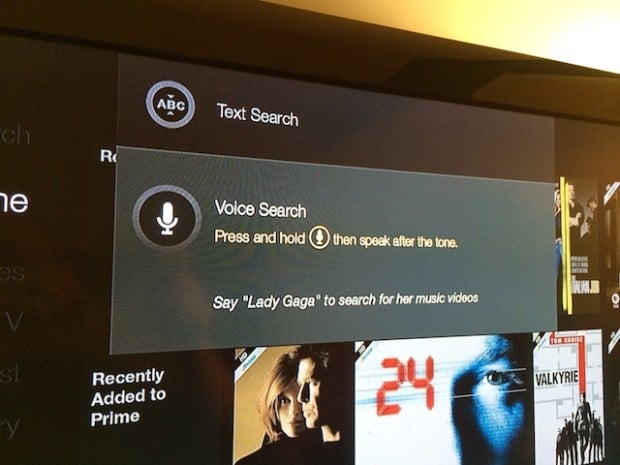 Read: Amazon 3D Smartphone Details Begin to Surface
Amazon also announced that new services and games are on the way from developers excited to work with the platform including Telltale Games, Halfbrick, Pixowl, Disney Interactive, Minority Media, Paradox Interactive, Gaiam, AllRecipes, and Twitch.
Other new features announced include:
New Prime browse will make it even easier to discover movies and TV shows that are included in Prime Instant Video.
Amazon FreeTime and Amazon MP3 integration coming as part of a free, over-the-air software update.
Amazon MP3, Amazon's digital music service, was also noticeably lacking with the launch of the Kindle Fire and at that time it was stated that it would be available next month. Amazon FreeTime, Amazon's service for parental controls, also missing at launch, was also promised for next month as well. Amazon FreeTime was prominently mentioned in all Fire TV launch publicity. Still lacking is any mention of the timing to include HBO Go, another popular streaming video service that is available on Amazon's Kindle Fire tablets as well as Amazon's competitors in the TV set top box game.
Read: How to Watch HBO Go on Fire TV with Kindle Fire HDX Mirroring
The Amazon Fire TV is also being positioned as gaming alternative to more expensive console gaming devices and Amazon promises more touch-enabled titles to be used in conjunction with the Kindle Fire. Amazon also sells a separate Bluetooth game controller for $49.99.
Amazon's Fire TV has made a big splash entering into a competition with the existing Apple TV, Roku, Google Chromecast streaming devices. There is also a reported Android TV that some expect to be unveiled at Google I/O in June. Most believe that the Apple TV is primed for an update to newer hardware, if not an entirely new approach, and speculation is that we could see a new Apple TV for the 2014 holiday season.