Amazon Touts Kindle Success, B&N Works Hard to Catch Up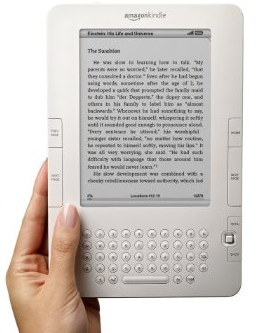 In what is to my mind an very predictable outcome, Amazon.com is touting that on this Christmas Day, 2009 they sold more Kindle Books than print books for the first time ever. Well, given the really short life span of the Kindle that's not too hard of a statement to make, I'm guessing. It is sort of like saying that Avatar is the most successful 3D movie ever about people. Amazon is also saying that the Kindle is the most gifted item in Amazon's history.
Again, while news like this is worth celebrating if its your news, I don't think it would be any shock to anyone who has been following the surging interests in eBook land. Although Amazon doesn't release Kindle sales numbers, it is more than safe to say that anyone who unwrapped one on Christmas Day had a very good shot of buying a book or two to check the thing out. I know that's what happened in my household. I gave my wife a Kindle 2 for Christmas (after she really like the one I received as an early Christmas present a few weeks ago). And of course, she's bought a few books for reading. (Check out the video after the jump.)
Meanwhile there are reports that Barnes & Nobles' servers are having some problems keeping up with demand. This, coming after delays in shipping, and B&N working tirelessly to get Nooks out to those who ordered, and promising a $100 Gift Card to any who did not receive their Nook on time. It's tough being number two and playing catch up.