Amazon Unveils Three New Kindle Fire Tablets to Take on Nexus 7
Amazon has introduced three new Kindle Fire tablets for this year with the aim of taking on Google's recently revamped Nexus 7 slate. And like the 2013 model of the Nexus 7, Amazon's comparably spec'ed Kindle Fire tablet retails for the same $230 starting price. The more premium tablets are now branded under the Kindle Fire HDX name, signaling their better than HD display resolutions. Additionally, this year, Amazon is using a highly skinned version of Android Jelly Bean and laying its Fire OS 3.0 operating system on top.
The first model is a reboot of the old Kindle Fire HD. With the same 7-inch display, the new Kindle Fire HD with a dual-core CPU now starts at a more affordable $139 price point. This will definitely put downward pricing pressure on the 7-inch tablet market. The tablet will come with a new design that is shared with the new Kindle Fire HDX 7 and Kindle Fire HDX 8.9 models.
https://youtu.be/PFYHF1w8w3g
The two new HDX models all boast Qualcomm's flagship Snapdragon 800 processor, which easily beats out the more conservative quad-core Snapdragon CPU on Google's Nexus 7 for this year. Amazon is touting that the new slates will have up to 17 hours of battery life if you're using the device primarily to read, and with more intensive use of games, Internet surfing, and watching videos, you're looking at a more realistic 11 hours of juice.
The Kindle Fire HDX 7 starts with 16 GB of storage and comes with advertising and a WiFi-only model for $230. Removing the on-device ads will bump the price to $244. There will be a WiFi + 4G LTE option, though you'll have to choose either Verizon or AT&T. Unlike the Nexus 7, one model doesn't rule all LTE networks so you'll have to make your decision. A 16 GB Kindle Fire HDX 7 with special offers and LTE connectivity will bump the price to $329 and removing the ads will bump the price to $344, competitive with the $350 Nexus 7 LTE though the latter comes with 32 GB of storage and a slower CPU.
The Kindle Fire will offer storage capacities up to 64 GB, making it more competitive with Apple's iPad and iPad mini offerings.
The 7-inch model has a display resolution of 1920 X 1200.
Moving to a larger Kindle Fire HDX 8.9 will give you an 8.9-inch slate with a whopping resolution of 1560 X 1600. The slate will offer similar storage and connectivity configurations as the 7-inch sibling, and the 8.9-inch model starts at $379.
Shipping for the slates will begin on November 7.
The front of the tablet is still sleek and smooth, though on the rear you'll see more beveled edges and angular surfaces. The tablets offer consistent bezels around the display so you won't get the slim side bezels as found on the new Nexus 7 and iPad mini.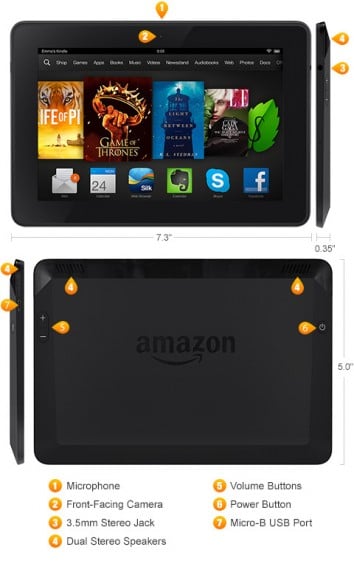 Also part of the Kindle Fire HDX experience, Amazon is introducing a new Mayday service. With Mayday, you'll have access to voice or video chatting with a live representative who can troubleshoot issues and guide you on using your Kindle Fire HDX.
Additionally, if you're an Amazon Prime subscriber, you already have access to Amazon's free video on demand streaming catalog, similar to Netflix. However, with the HDX models, you no longer have to stream. Select shows or movies are now downloadable so you can take the video watching experience with you where there won't be Internet connectivity, like on an airplane.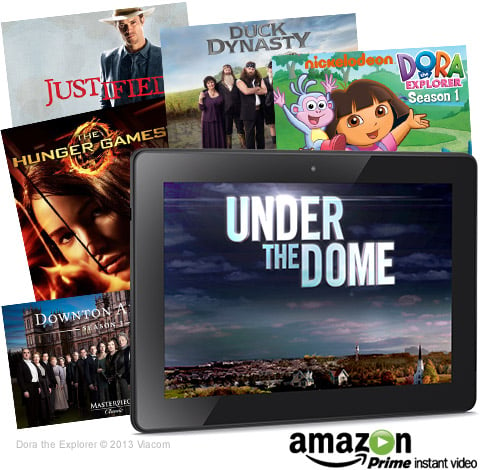 You'll also soon be able to mirror content to the big screen as well.

As an Amazon Associate I earn from qualifying purchases.