Amazon Updates iOS Photos App, Makes Photos Easier to View on Fire TV
What's our Cloud mantra that we keep repeating? Everyone wants your content in their Cloud. One of those content categories that every user seems to enjoy, and every Cloud service competes to have is photos. And that's because everyone is taking photos on their mobile devices in record numbers. Apple, Google, Microsoft, Flickr, Dropbox, and others have ways to automatically upload your photos to their sites. And most services have Apps that feature touch orientated easy methods to view that content on your mobile devices. As an example, just last week Dropbox released a new App called Carousel to make viewing of your photo content stored on its service easier on your mobile devices.
Of course once you've taken photos and sent them to a Cloud service, you need a way to display them on your mobile device and quite possibly on your large screen TV in your living room.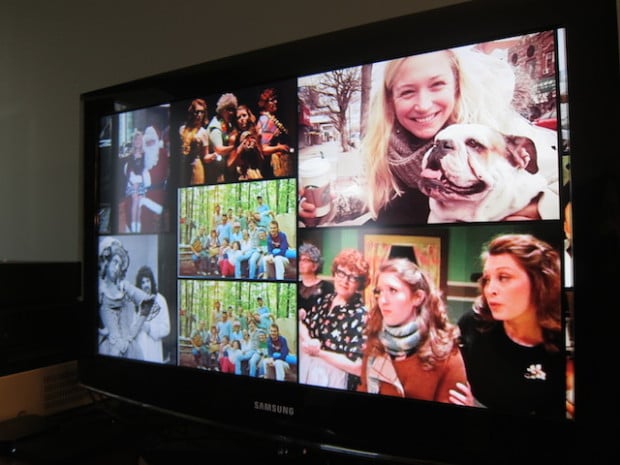 One of the features of Amazon's new Fire TV is, that like Apple's TV, you can use the Fire TV to display photos on your large screen television. To do that you first need to have photos stored in Amazon's Cloud Drive. There are obviously a number of ways to get photos into Amazon's Cloud. But if you're an iOS user who wants to see your latest iPhone shots on your Fire TV, you've had to rely on Amazon's Cloud Drive Photo App. The problem? That App hadn't been updated for awhile and as far as iOS Apps for sending photos up to Amazon's Cloud it was lacking in features.
Read: Amazon Fire TV: Review
Amazon took care of some of that today with the release of Amazon Cloud Photos 3.0, a hefty update to the original. Not only does the new update bring a better and more manageable uploading experience, but you also have a better photo viewer on your iOS device if you want to see or show off your photos while out and about.
Here are some of the new features of Amazon Cloud Photos 3.0.
First there's a new navigation view or views. You can arrange your photos by the date they were taken or arrange them by the date they were uploaded. On your mobile device you'll see your photos displayed in a tile like interface that has dates displayed in what looks like a flat Windows 8-look.
If you want to easily scroll through your timeline to a particular month or year, you swipe in from the right of your screen and a timeline slides in allowing you to pick and then jump to the month or year of your choosing.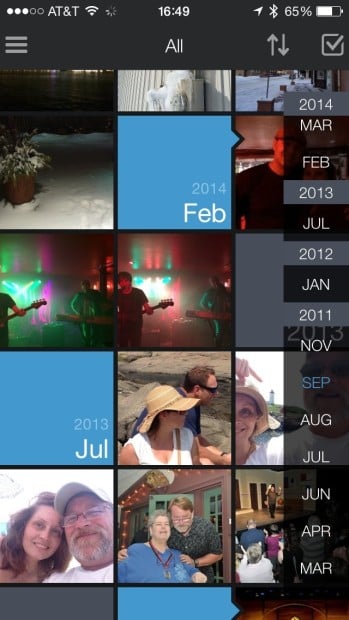 You can also choose to display both photos and videos in one view or choose a view that contains just photos or just videos.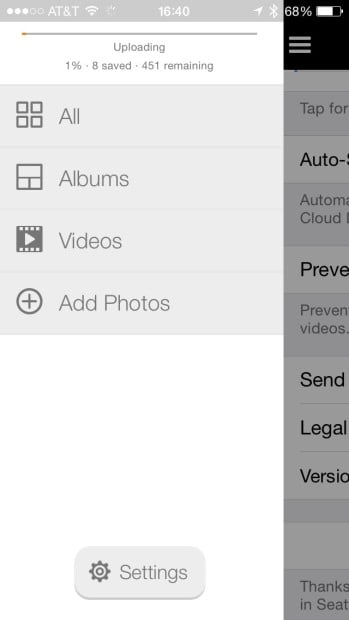 Under settings you can adjust auto-uploading in two ways. First you can choose to have your photos upload when you are on WiFi only, WiFi + Cellular, or turn off auto upload all together. You can also flip a toggle that will allow you to Prevent Auto-Lock when you are in the process of an upload. If your iPhone goes to sleep (and then locks) while uploading, the upload stream comes to a halt, requiring you to reopen the App before it will start again if you've been away from it for awhile.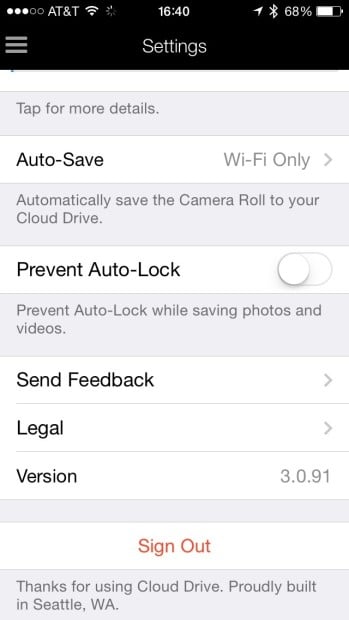 There is also now a clearer indication of how your uploads are progressing. You can now see how many photos you still have remaining and an estimate of time remaining in the upload queue. There is also a badge with the remaining count on the Apps icon on your Home Screen.
As for viewing your photos it couldn't be much simpler. You simply scroll through your photos in All or Album view and tap on a photo if you want to enlarge it. When you select a photo you have the option to download it to your device, or upload it to Amazon's Cloud. This is a handy feature if you're not one who likes to auto upload photos from your device. Unfortunately using the select icon to select multiple photos won't allow you to upload multiple photos at one time. But you can download multiple photos form Amazon's Cloud to your device.
While you can view photos within albums in an Album view, you can't add to or create an album on the fly. Perhaps that's a feature that can be added in the next update.
So, if you're a Fire TV owner who has an iPhone and wants to be able to get your iOS photos up to Amazon's Cloud, this update will make it easier to perform that chore.
The updated Amazon Cloud Drive Photos 3.0 is available for free on the iTunes App store and is a universal App that can be used on the iPhone, iPod Touch, or iPad.

As an Amazon Associate I earn from qualifying purchases.