Amazon's Cloud Player and Storage Goes Live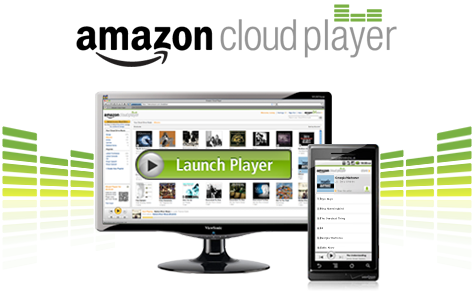 And here we go. Amazon has beat others to the punch by taking the wraps off of its cloud storage service and a media player. Called Amazon Cloud Drive, consumers get a free 5GB of storage and up to 20GB if you purchase an mp3 from Amazon's music store. The service rolls out with a web interface, (Amazon Cloud Player) and a player for Android devices, (Amazon Cloud Player for Android.)
Consumers can upload their music to the Cloud Drive and access it from any device. You know that drill, that's what the cloud is supposedly all about.
New Amazon music purchases can be saved to the Cloud Drive and don't count against that storage limit. You can also purchase more storage if you wish to starting at $20 per year. Of course you can store more than music in your Cloud Drive if you choose to, but the PR focus is on music because, well, there's the company in Cupertino that has its teeth deep in the music biz, supposedly wants to do something similar, but isn't ready to roll yet. Note that there's no player for iOS devices yet, and that will be an interesting tell on how Apple and Amazon want to fight this battle. Amazon has been big in the cloud for some time but this effort should bring a consumer facing front to those efforts.
Keep in mind as you get your head all excited about music in the cloud that streaming from any cloud service counts against whatever cap your carrier has imposed.
Here's the press release:
Introducing Amazon Cloud Drive, Amazon Cloud Player for Web, and Amazon Cloud Player for Android
Buy anywhere, play anywhere and keep all your music in one place
Start with 5 GB of free Cloud Drive storage – upgrade to 20 GB free with purchase of any MP3 album

SEATTLE, Mar 29, 2011 (BUSINESS WIRE) —
Amazon.com, Inc. (NASDAQ:AMZN) today announced the launch of Amazon Cloud Drive (www.amazon.com/clouddrive), Amazon Cloud Player for Web (www.amazon.com/cloudplayer) and Amazon Cloud Player for Android (www.amazon.com/cloudplayerandroid). Together, these services enable customers to securely store music in the cloudand play it on any Android phone, Android tablet, Mac or PC, wherever they are. Customers can easily upload their music library to Amazon Cloud Drive and can save any new Amazon MP3 purchases directly to their Amazon Cloud Drive for free.
"We're excited to take this leap forward in the digital experience," said Bill Carr, vice president of Movies and Music at Amazon. "The launch of Cloud Drive, Cloud Player for Web and Cloud Player for Android eliminates the need for constant software updates as well as the use of thumb drives and cables to move and manage music."
"Our customers have told us they don't want to download music to their work computers or phones because they find it hard to move music around to different devices," Carr said. "Now, whether at work, home, or on the go, customers can buy music from Amazon MP3, store it in the cloud and play it anywhere."
Store Music for Free
Customers automatically start with 5 GB of Cloud Drive storage to upload their digital music library, and those who purchase an Amazon MP3 album will be upgraded to 20 GB of Cloud Drive space. New Amazon MP3 purchases saved directly to Cloud Drive are stored for free and do not count against a customer's storage quota.
Adding Music to Cloud Drive
Amazon's easy uploading process makes it simple for customers to save their music library to their Cloud Drive. Files can be stored in AAC or MP3 formats and will be uploaded to Cloud Drive in the original bit rate. Customers can hand-pick particular songs, artists, albums or playlists to upload or simply upload their entire music library.
Cloud Player for Web
Customers who have a computer with a Web browser can listen to their music. Cloud Player for Web currently supports Internet Explorer, Firefox, Safari for Mac, and Chrome. Cloud Player for Web lets customers easily manage their music with download and streaming options. Customers don't need to worry about regularly updating software on their computer to enjoy music, and Amazon MP3 customers can continue to use iTunes and Windows Media Player to add their music to their iPods and MP3 players.
Cloud Player for Android
Cloud Player for Android is now bundled into the new version of the Amazon MP3 App; it includes the full Amazon MP3 Store and the mobile version of Cloud Player. Customers can use the app to play music stored on their Cloud Drive and music stored locally on their device. Features include the ability to search and browse by artist, album or song, create playlists and download music from Cloud Drive.
Secure Storage
Customers never need to worry about losing their music collection to a hard drive crash again. Files are securely stored on Amazon Simple Storage Service (Amazon S3) and each file is uploaded to Cloud Drive in its original bit rate. Customers can buy music anywhere and know that their MP3s are safely stored in Cloud Drive and accessible from any device.
Store More than Music
Cloud Drive allows customers to upload and store all kinds of digital files; music, photos, videos and documents can be stored securely and are available via web browser on any computer. In addition to the 5 GB of free storage, customers can purchase storage plans starting at $20 a year for 20 GB.
Cloud Drive
Cloud Player for Web
Cloud Player for Android
Cost
-5 GB: Free-20 GB: Free for one year with purchase of MP3 album

-Additional storage plans starting at $20 a year

-Free
-Free
Storage
-Digital Music-Videos

-Photos

-Documents

-N/A
-N/A
Format
-Music: Any type of file-Video: Any type of file

-Pictures: Any type of file

-Documents: Any type of file

-Music: MP3, AAC
-Music: MP3, AAC
CompatibleDevices
-Macs

-PCs

-Android Phones-Android Tablets

-Macs

-PCs

-Android Phones-Android Tablets
Audio Quality
-N/A
-Original bit rate of your music file
-Original bit rate of your music file
Basic Features
-Upload, download, move, copy, delete, rename.
-Upload, download, playback, playlist management
-Upload, download, playback, playlist management
About Amazon.com
Amazon.com, Inc. (NASDAQ: AMZN), a Fortune 500 company based in Seattle, opened on the World Wide Web in July 1995 and today offers Earth's Biggest Selection. Amazon.com, Inc. seeks to be Earth's most customer-centric company, where customers can find and discover anything they might want to buy online, and endeavors to offer its customers the lowest possible prices. Amazon.com and other sellers offer millions of unique new, refurbished and used items in categories such as Books; Movies, Music & Games; Digital Downloads; Electronics & Computers; Home & Garden; Toys, Kids & Baby; Grocery; Apparel, Shoes & Jewelry; Health & Beauty; Sports & Outdoors; and Tools, Auto & Industrial. Amazon Web Services provides Amazon's developer customers with access to in-the-cloud infrastructure services based on Amazon's own back-end technology platform, which developers can use to enable virtually any type of business. Kindle, Kindle 3G and Kindle DX are the revolutionary portable readers that wirelessly download books, magazines, newspapers, blogs and personal documents to a crisp, high-resolution electronic ink display that looks and reads like real paper. Kindle 3G and Kindle DX utilize the same 3G wireless technology as advanced cell phones, so users never need to hunt for a Wi-Fi hotspot. Kindle is the #1 bestselling product across the millions of items sold on Amazon.
Amazon and its affiliates operate websites, including www.amazon.com, www.amazon.co.uk, www.amazon.de, www.amazon.co.jp, www.amazon.fr, www.amazon.ca, www.amazon.cn, and www.amazon.it. As used herein, "Amazon.com," "we," "our" and similar terms include Amazon.com, Inc., and its subsidiaries, unless the context indicates otherwise.
Forward-Looking Statements
This announcement contains forward-looking statements within the meaning of Section 27A of the Securities Act of 1933 and Section 21E of the Securities Exchange Act of 1934. Actual results may differ significantly from management's expectations. These forward-looking statements involve risks and uncertainties that include, among others, risks related to competition, management of growth, new products, services and technologies, potential fluctuations in operating results, international expansion, outcomes of legal proceedings and claims, fulfillment center optimization, seasonality, commercial agreements, acquisitions and strategic transactions, foreign exchange rates, system interruption, inventory, government regulation and taxation, payments and fraud. More information about factors that potentially could affect Amazon.com's financial results is included in Amazon.com's filings with the Securities and Exchange Commission, including its most recent Annual Report on Form 10-K and subsequent filings.
SOURCE: Amazon.com, Inc.
Amazon.com, Inc.
Media Hotline, 206-266-7180