Amazon's Kindle Unlimited Arrives as the Netflix for eBooks
Amazon has launched a new Kindle ebook service called Kindle Unlimited that allows you to rent an unlimited number of ebooks for just a monthly fee of $9.99.
The service is an all-you-can-read buffet that costs just $10 per month, and with that you get to choose from over 600,000 ebooks and "thousands" of audiobooks — Amazon didn't call it Kindle Unlimited for nothing, although yes, it is limited to some extent.
A few of the major publishers aren't accounted for, including Hachette, HarperCollins, Penguin Random House, Simon & Schuster, and Macmillan, so while there are hundreds of thousands of titles to choose from, some of your favorite authors and titles may not be available.
However, there are still many popular titles to choose from, including some of the biggest book-to-movie titles such as Harry Potter, Lord of the Rings, and the Hunger Games. Also, from what we're seeing, Kindle Unlimited looks to have a larger selection than Amazon Prime's Lending Library, but that could be up for debate. If you're not sure if a book that you want to read with your Kindle Unlimited service is available, just look for the Kindle Unlimited stamp on eligible titles, where you can then click "Read for Free."
If you're not sure whether or not you want to buy into Kindle Unlimited, Amazon is offering users a free 30-day trial that allows you to get a feel for the service to see if you like it or not. Plus, the online retail giant will also throw in a three-month subscription to Audible, as well as the ability to access over 2,000 audiobooks through Amazon's Whispersync service, which lets you switch between reading and listening to a book flawlessly on your Kindle or in the Kindle app.
This is a huge step for the ebook market, and it's even a bigger step for readers themselves, as they can now pay a flat fee every month and read as many books as they want. Obviously, this service won't be for everyone, but if you're a fast reader and can get through a book in a day or two, Kindle Unlimited might be something worth checking out.
It's worth mentioning that this service is for ebooks only, meaning that you have to have a Kindle device or a smartphone or tablet that can run the Kindle mobile app. So if you were looking forward to renting actual books, that's sadly not what this service is, which is unfortunate, because if you're like many users, you just can't read books on a digital device — there's nothing better than the real thing.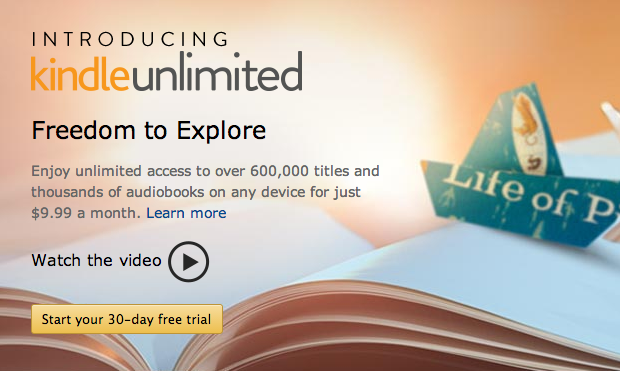 As for whether or not this kind of system could take off in popularity is still up in the air, but we wouldn't be surprised to see it become a must-have option like Amazon Prime. Netflix has been thriving with it's all-you-can-watch movie and TV show streaming service for just $8.99 per month. It's been a huge hit and it looks like Amazon thinks it can accomplish the same with ebooks.
Even if you don't have a smartphone or tablet to read ebooks on, a dedicated Kindle device is really cheap, with the entry-level model costing just $69, although we've seen it on sale several times in the past for $49, so you can usually get them discounted if you're patient.
Furthermore, the company's flagship Kindle device, the Paperwhite, can be bought for $119, but again, we've seen it on sale for under $100 multiple times this year already, so you can easily get a good deal on it if you wait for one to come around. You don't definitely won't be sorry that you waited.

As an Amazon Associate I earn from qualifying purchases.