Amazon's WindowShop is Cool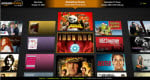 This is just too cool not to share. Amazon's new WindowShop is a fascinating UI that allows you to scroll through tiles of what's hot in books, movies, and music. Each tile offers up a preview of the product. The UI looks very familar to CoolIris (previously known as PicLens) which I use to browse photos on Flickr. All you do is scroll through and enjoy the ride. This looks great on a large screen,   but you really don't get the full effect on lower res devices.
Via TechCrunch

As an Amazon Associate I earn from qualifying purchases.