AMD Demos Prototype Windows 8 Slate
While there has been a lot of buzz surrounding Intel's and ARM's chipset architecture on Windows 8 tablets, there has been little mention of AMD for Microsoft's forthcoming platform that's slated to debut this fall. At Computex this year, AMD is taking the opportunity to show off more of its wares and has shown off an attractive slate running on its CPU and APU.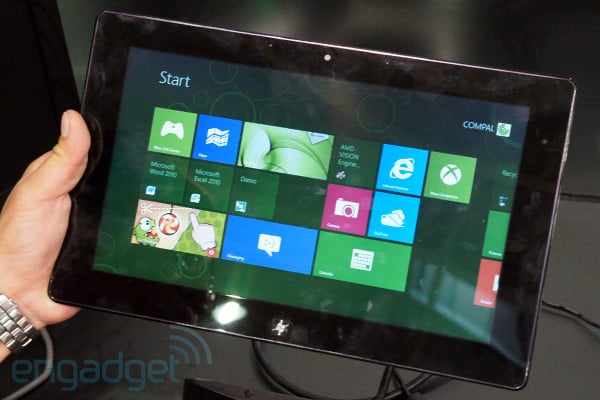 The reference design has been made by manufacturing partner Compal, and like many of the slates from Asus, Acer, and Samsung that we've seen earlier, this one also features a keyboard dock to give you the versatility to use the slate as a tablet or docked as a netbook/notebook. The keyboard is noted as more spacious than many of the rival offerings with a similar form factor.
The tablet itself has an 11.6-inch display with a resolution of 1366 X 768, which seems par for the course right now.
From AMD, we have the Trinity A6 APU that's powering the whole rig.
According to Engadget, performance "seemed smooth so far as we could tell," and we'll definitely have to wait to see real world performance and benchmarks when doing more intensive tasks. AMD has thus far not disclosed battery life.
So while users will find a common theme with Windows 8 tablets that will launch in a few months–including optional or bundled keyboard docks, slate form factor, and long battery life–manufacturers will be introducing models with various CPUs under the hood, including various offerings utilizing the ARM architecture, Intel's high end Ivy Bridge CPU, Intel's more modest Atom-based offerings, and now AMD's APU.