AMD Fusion Making Waves at CES 2011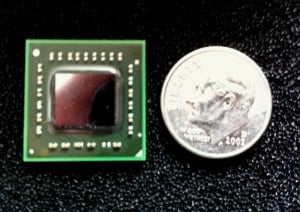 We've heard quite a bit about APUs over the past couple of years, so it's nice to finally see living, breathing products that are built around AMD's Fusion technology. We've seen a handful of 11.6″ notebooks featuring Fusion in the days and weeks leading up to CES 2011, but we had no idea exactly how busy the folks at AMD have been selling the technology to PC manufacturers.
APUs are part CPU and part GPU, providing a better graphics experience than what we typically see on netbooks and affordable ultraportables. We have a full description of the technology over at Notebooks.com.
According to AMD Product Marketing Director Bob Grim, a total of 35 notebooks with Fusion are being announced here at CES 2011. And that's just the beginning. During CES Unveiled, Grim told us that the AMD has scored over 100 design wins.
This means we're going to see a slew of affordable notebooks that are a lot more suitable for mainstream consumers, most of whom only want or need a single computer.  We're seeing Fusion notebooks, such as the ThinkPad x120e and HP Pavilion dm1, being introduced for in the $450 range. Over time, the entry price to Fusion will likely fall, making it a no brainer to opt for a APU equipped notebook rather than a netbook with integrated graphics.
I spoke with Bob Grim a few months ago at a press event in San Francisco, where he explained the advantages of APUs.

As an Amazon Associate I earn from qualifying purchases.