AMD Tries to Clear Consumer Chip Confusion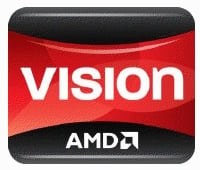 Face it, the numbers and chip monikers are confusing, especially if you follow the news and are trying to keep up with what's on the market and what's coming down the pike. I follow this, and even I get confused. But then, some would say that's just my perpetual state.
AMD is trying to make things easier for consumers by simplifying its product line with a new marketing approach. It centers around the word Vision. Basically there will be three different Visions and these will be reflected in the stickers on AMD equipped hardware.
The three levels are:
Vision-which is geared towards those who just want basic computing, defined as web browsing, email, etc… Think Netbooks
Vision Premium-which takes things a step further and is geared towards those who want to view HD content and do some sharing.
Vision Ultimate-essentially for those who want to do some content creation, as in video.
Given the confusion we saw with consumers being dissatisfied with Netbook purchases in the great Netbook rush last year, and the fact that manufacturers are trying desperately to keep the low end from swallowing any profit margin on the high end, this makes sense on paper. The key to this working of course will be how this translates to the consumer experience at point of purchase.
Via Business Week and jkOnTheRun