An Interesting Roundup of Articles on UMPCs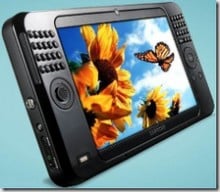 On the heels of Dennis' editorial, Is Tablet Alive and Growing? My Thoughts and some comments here on GBM that all the news seems to be about Ultra-Mobile PCs these days, there were a number of articles rolling out about Ultra-Mobile PCs in other publications. Here's a quick roundup.
The DailyTech takes a look at the UMPC platform by rehashing many of the issues that have been well worn during the last year. But they see some promise in the Samsung Q1 Ultra, and a retreat in the Asus T83 UMPC. They chide Asus for making a UMPC that is larger, heavier, slower, and with less features.
BusinessWeek.com sees some promise on the horizion with the OQO, Nokia, Sony entries. They also give a shout out to Asus for the R2H.
PCMagazine seems to be stuck in a rut and content to show that off with their coverage about Ultra-Mobile PCs, picking the Samsung Q1 as one of their Worst PCs on the market.
And in an AP story that I found on StarTribune.net, several analysts talk about the small form factor with some new twists and perspectives. One on those analysts quoted is James Kendrick.
There are challenges to the conventional wisdom about UMPCs beginning to trickle out here and there, but the majority of coverage is still mostly the same old same old. We're about to see quite a few of these new devices getting into the hands of users within the coming months. It will be very interesting to see how and if that changes conventional wisdom.

As an Amazon Associate I earn from qualifying purchases.