An iTablet in January 2008?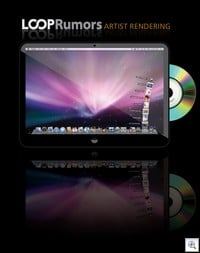 Ok, before anyone goes crazy, let's consider the source here. Appletell is linking to information from LoopRumors, and that name alone should make anyone pull out their skeptic hat. But it is a Friday, it is December, and let's take a look at the speculation shall we?
LoopRumors is reporting that Apple will unveil an Apple iTablet that will be an entirely new class of device, aimed at those who arleady have a Mac. It will have its own variant of Leopard, geared to the features of the device. Other info says it will contain a solid state drive, a mini-DVD reader (interesting), and get this: users supposedly will be able to interact with the devcie using both sides of the Tablet. Of course it would have multi-touch capability as well. LoopRumors is leaning on a January 2008 release, most likely at MacWorld.
Again, keep your skeptics hat on, some, all, or none of this may be as real or imagined as the rendering accompanying this article. But we're hearing more and more about an Apple Tablet surfacing in January. I'd love to see it come true, especially if it is along the lines of the companinon devcie this new speculation seems to suggest. That would go well with the new iMac I just bought for my office.

This article may contain affiliate links. Click here for more details.