An Update On Our Dear Friend Marc Orchant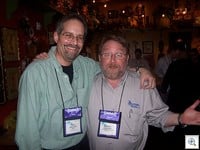 As many of you know our dear friend Marc Orchant suffered a massive heart attack on Sunday. He has been in critical condition since that time. Many of us have been waiting for any news we can get on Marc's condition. As of now he remains unconscious and is still in critical condition. One of Marc's co-workers, Oliver Starr, has put up a page where updated information will be posted when it is available. The page is located here. There is a brief update from Marc's wife Sue posted as of this morning which is reprinted here:
A Message from Sue Orchant

Hi everyone. I want you all to know that your amazing, incredibly overwhelming, heartfelt response of love, concern, and good wishes for Marc is helping myself, Rebecca, Jason and our family get through this difficult time.

Please keep sending those prayers and positive energy Marc's way. He knows as well as I that you are all there for him. I'll have to tell him that he'll need to change his name to George Bailey (It's a Wonderful Life). It's a beautiful thing to see.

In this past day we have seen some baby steps of improvement. He has some response to stimuli and his oxygen levels and heart rate have improved. I am guardedly optimistic. He still has not regained consciousness but we will take things minute by minute.

It's hard to put into words but I know you are all here with me and I appreciate you all. I will update you as soon as I know more.

Thank You.

Sue and the Orchant Family
Keep the prayers and good thoughts going for Marc.

This article may contain affiliate links. Click here for more details.